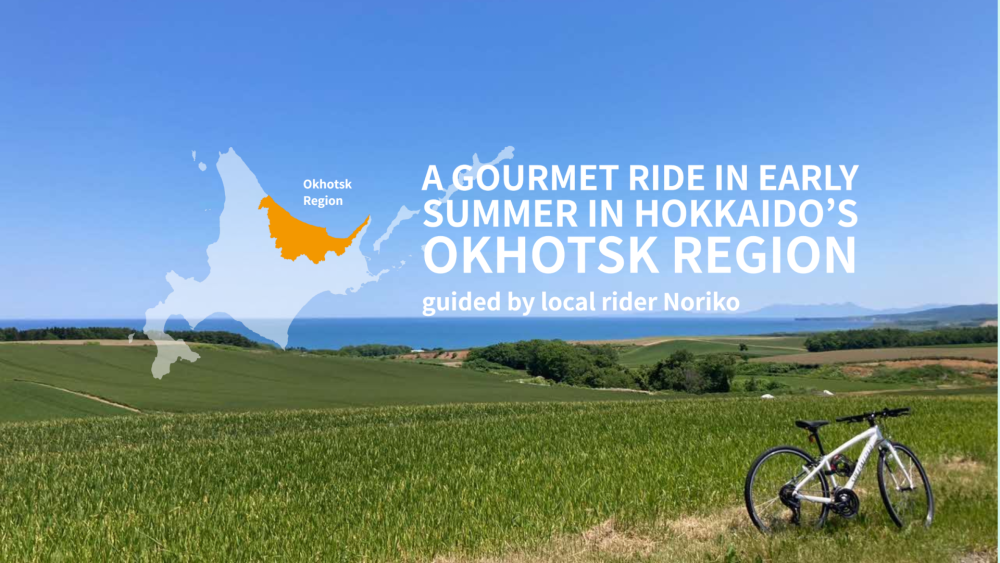 A gourmet ride in early summer in Hokkaido's Okhotsk region,
guided by local rider Noriko

Hello, I'm Noriko, a cyclist from Kitami City, Hokkaido, Japan. This time, I would like to introduce a ride course in the captivating region of Okhotsk, which offers plenty of charm, including delicious treats, during the early summer.
Kitami City is a core city located in the eastern part of Hokkaido, with a population of 110,000 people. It is a region that combines agriculture, forestry, fishing, and hot springs, making it a perfect place to live. For those outside of Hokkaido, it may be famous for its drift ice and curling. Despite being in Hokkaido, which is known for its cold climate, Kitami is located in a basin, so it can experience temperatures exceeding 30 degrees Celsius in summer and dropping to -25 degrees Celsius in winter. However, it is a region with many sunny and dry days, making it perfect for cycling.
Today, surrounded by the lush greenery of early summer, I will ride to Tokoro Town, which is approximately 50 kilometers away. I want to ride to buy the specialty of the season, fresh scallops.
Usually, I depart around 9 o'clock and arrive in Tokoro Town around 12 o'clock to have lunch. However, since the goal today is to buy scallops, I will start a bit later at 10 o'clock to match the opening hours of the shops. The starting point is the " Okhotsk Cycle Station". At this point, two bicycles have already been rented out, and I was informed that they are being used by visitors from outside of Hokkaido for sightseeing purposes.
The Cycle Station is located next to the Kitami Bus Terminal at JR Kitami Station. It's less than a 50-minute ride by airport shuttle bus from the main airport in the Okhotsk region, Memanbetsu Airport. It may be surprisingly close.
The most popular item at the souvenir shop attached to the Cycle Station is the Chocolate Chip Mint Gelato. You can feel the passion of the leading expert in handling mint. It has a delicious taste of mint without any peculiar aftertaste!
It is said that by 1939, the production of mint in Kitami City had grown to account for approximately 70% of the global mint market. As a remnant of that history, there is the "Kitami Mint Memorial Museum" that introduces the essential oil extraction methods and more. With that in mind, I visited this memorial Museum, located about 800m from the Cycle Station. With bike racks available, it is a recommended spot that is easily accessible for riders.
After finishing the tour of the Kitami Peppermint Memorial Museum, you can proceed along the embankment of the Tokoro River. It is safe to ride your bike on the embankment, while you may come across people taking a walk or jogging. Instead of crossing the road, try riding on the loop-like path. The embankment is mostly flat, making it a great choice for a leisurely ride.
After riding for a while, we will enter Route 39 from the embankment and make a stop at the confectionery shop Shiga in Tanno Town. Shiga confectionery shop has a permanent bicycle rack, making it convenient for cyclists to stop by. It gives a sense of support and I feel very happy about it.
I feel tempted to relax and take my time in the cozy eat-in corner, but I need to keep moving. After leaving Shiga Confectionery, I will continue along Route 39. There won't be any rest stops for a while. I'll make a quick stop at this drive-in and then switch to riding mode to cover the remaining distance to Tokoro Town, which is approximately 35km.
I stopped by a memorial monument located a little off the main road. It was erected to commemorate the spirits of the prisoners who lost their lives during their time at Abashiri Prison and road construction work. I am grateful for the road I am currently riding on.
And then, we enter the climbing lane from Kusarizuka to Ubaranai , Abashiri City. This may be the toughest ascent of the road this time.
Back on the flat cycling road again. I'll ride in a relaxed mode while enjoying the calm surface of Lake Notori. It's refreshing to ride along the water's edge. After that, I'll enter the Tokoro-Abashiri Cycling Road.
After approximately four hours, we finally arrived at the Tokoro Fishermen's Cooperative Direct Sales Store! We were able to safely obtain fresh scallops!
Kitami is in its prime season for scallops from spring to early summer. Due to the need to bring back fresh food, today we arranged to meet with my family at the Tokoro Town Bus Terminal and concluded the ride. This time, it was a leisurely ride with detours, taking about 4 hours one way.
Today's ride: Approximately 50km of distance covered, with an elevation gain of 385m. Including detours, it took about 4 hours.
Text_Noriko Sugano
Noriko Sugano
Born and raised in Kitami City, Hokkaido. As my family had a farm, I started commuting to school by bicycle from the fourth grade of elementary school. It was a 10km round trip to elementary school, 11km round trip to middle school, and for high school, I commuted by JR train, which was an 8km round trip to the nearest station.
I got married to my husband, who had a similar lifestyle, and we had a child. To my surprise, our eldest son expressed his desire to ride a road bike when he was in middle school! On his own!? Riding a road bike!? With various concerns in mind, we decided to have my husband accompany our son and act as his bodyguard. My husband, who initially said, "I'm done with cycling," was impressed by the exhilaration and excitement of riding a road bike, exclaiming, "A road bike is completely different from any bicycle I knew before!"
We started with local rides, and also enjoyed driving to different destinations with our bikes loaded in the car, going for rides at those locations. We even went on rides where I would meet my husband, who had already set off on his road bike, to accompany him on the journey. We have been enjoying a cycling lifestyle as a family.
Post Date:2023.07.14