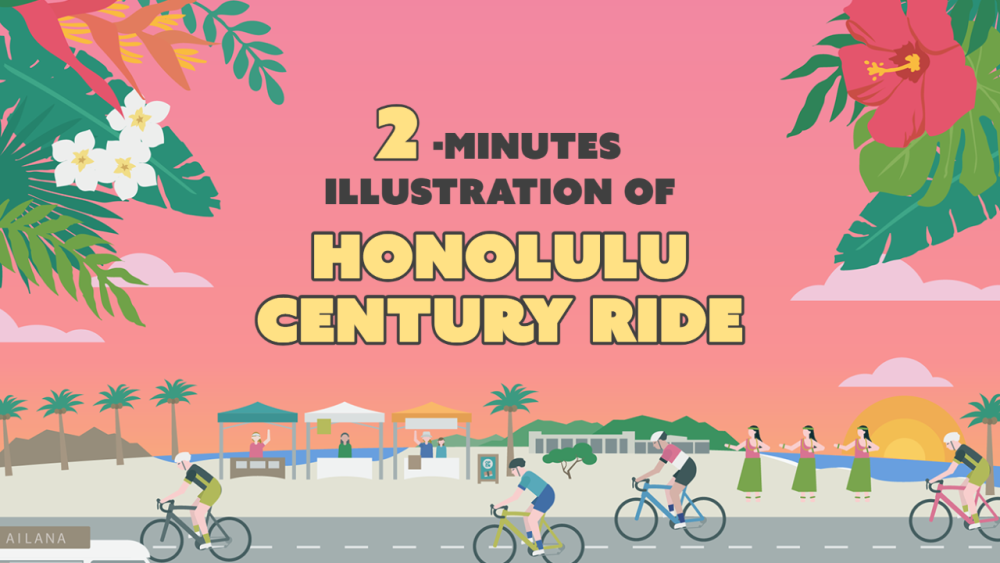 2-minutes illustration of "Honolulu Century Ride"
Hello readers. "INFOGRAPHIC GUIDE", which started this time, is a corner where we unravel various aspects of fan rides, road races, and everything related to cycling in an easy-to-understand visual format.
The first edition is "Honolulu Century Ride 2023." It is not only a tourist attraction but also one of the world's best fan rides. The event will take place on September 24, 2023 (Sunday). Please enjoy the illustrations filled with fun and showcasing the breathtaking views (actually, almost the entire route offers stunning scenery) of this event, which has attracted many first-time participants.
*INFOGRAPHIC – A means of conveying information using visually understandable
The "Honolulu Century Ride 2023" is a highly anticipated event as it marks its 40th anniversary. Whether you are a beginner participant, experienced rider, or enjoying with your family, this event is designed to be enjoyed by everyone, regardless of their level of experience. One of the reasons for its popularity is the breathtaking scenery, pleasant climate, and lively atmosphere. After all, it's Hawaii!
The road with dazzling morning sun❶, the breathtaking ocean view at Makapu'u Point❸, and the magnificent mountain ranges reminiscent of ancient Earth at Kualoa Ranch❺ are just a few of the many highlights along the route. There are plenty of scenic wonders that will make you forget about any fatigue.
The event offers four course options: 25 miles (40km), 50 miles (80km), 75 miles (120km), and 100 miles (160km), allowing participants to choose based on their fitness level and condition on the day of the event. This is particularly beneficial for beginners! As it is not a race focused on timing, it makes the event even more appealing to beginners.
There are a total of six aid stations along the route, which serve as drink stations, rest areas, and repair stations (two of them are only available on the return route). In true Hawaiian fashion, you can enjoy nutrition replenishment with delicious Spam sandwiches and fruits. They play a significant role in providing the necessary nutrients during the event.
The main event is packed with attractions and exciting points of interest, and according to the previous data, nearly half of the riders were participating for the first time.
*The data used is from the 2022 edition, which had travel restrictions due to the impact of COVID-19.
The rider population itself is predominantly male, but approximately 1/5 of the participants were female.
The age group of participants is mostly in their late 40s to early 60s, accounting for more than half of the participants. I wonder which mileage course everyone is riding…
And now, let's take a look at the participation by country. As expected, the United States, the host country, has the highest number of participants. Surprisingly, Japan comes next. It's probably because Hawaii is a familiar vacation destination for many Japanese people. With such a strong presence of fellow Japanese riders, even beginners can feel at ease participating in the event.
The "Honolulu Century Ride 2023" is also well-supported with Japanese assistance provided by the Hawaii Bicycling League. It's a perfect event for those who are interested in experiencing an international cycling event. The deadline for pre-registration is scheduled for September 4, 2023. If you're looking to end your summer vacation with an exhilarating ride, be sure to consider participating in this event. You can find more information and details by visiting the provided link.
▶︎Overview of the Honolulu Century Ride 2023
Text_Editorial Department
Infographic_ Jun Otake
Post Date:2023.06.23