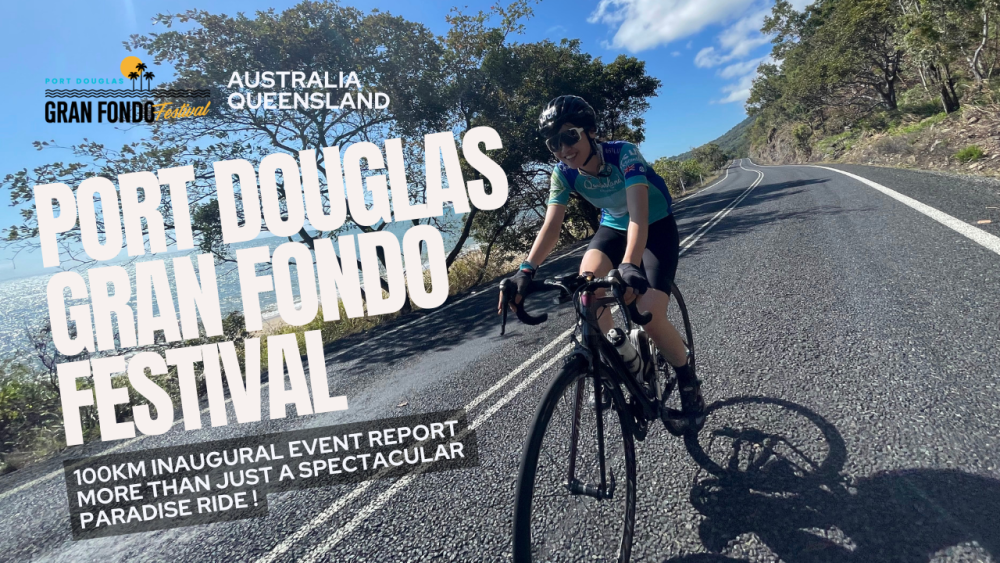 Port Douglas Gran Fondo 100km Report
More than Just a Spectacular Paradise Ride(Part 1)
Port Douglas Gran Fondo Festival was held in Port Douglas (Queensland, Australia) for the first time in 2022.
My partner and I participated in the 100km course of the main long ride event, "Port Douglas Gran Fondo." Here is the report (Part 1) of the ride through the World Heritage rainforest and the coral reef sea, a paradise with spectacular views.
Table of Contents
Cycling events under COVID-19 in Australia
This event, held in September 2022, was almost the same as before COVID-19 disaster. The event was held under blue skies, and participants were able to enjoy themselves while breathing fresh air to their heart's content.
Australia intermittently implemented a strict lockdown policy from 2020 to 2021, banning interstate travel and closing borders to prevent COVID-19 infection. Since March 2022, there has been no requirement to wear masks in daily life, and various cultural and sporting events have been held almost as before the coronavirus.
Access to Cairns
The gateway to travel to Port Douglas Grand Fond is Cairns, Queensland.
There are direct flights from Japan to Cairns, mainly by Jetstar Airways from both Tokyo and Kansai, which take about 7.5 hours.
Jetstar Airways
Direct flights from Narita and Kansai International Airports to Cairns. Jetstar also offers special dynamic packages that include airfare and hotel, as well as package tours selected by Jetstar representatives.
Virgin Australia
From June 28, 2023, one daily flight and seven weekly flights between Tokyo Haneda and Cairns are planned.
Scheduled operation:
VA78: Haneda (9:45 p.m.) to Cairns (06:15 a.m. +1day), one flight daily
VA77: Cairns (1:15 p.m.) to Haneda (08:00 p.m.), one flight daily
Queensland is only one hour ahead of Japan, so you will not suffer from jet lag. It is a perfect place to get accustomed to your body quickly and play sports even during a short stay.
Port Douglas Gran Fondo Festival Information
2022
・September 9 (Fri.)-11 (Sun.), 2022.
・The main event, Port Douglas Gran Fondo was held on Sep. 11 (Sun), 2022.
 *3 courses options (48km, 100km, 138km) (Number of participants: 906)
・The 100km course starts in Port Douglas and turns around at Palm Cove, 50km from the start.
2023
・September 8 (Fri)- 10 (Sun), 2023
・Port Douglas Gran Fondo is scheduled to be held on Sep. 10(Sun), 2023.
 *Course options will be changed to 4 types (48km, 60km, 100km, 136km)
Various pre-day fun events
The main venue for the event is Crystalbrook Superyacht Marina in Port Douglas. It is located approximately 66km north of the Cairns CBD.
The wooden deck overlooks many yachts and the venue is filled with a resort atmosphere.
Check in at the convention headquarters in the marina. Receive your bike tag and helmet sticker. Usually, Australian bike events kits are handed out in paper envelopes, but for this event, the bike kit comes in a cloth knapsack with the event logo on it. This is a nice enough souvenir!
In addition to the check-in at the headquarters, there was a number of pre-day events throughout the day.
"Crystalbrook Superyacht Marina Festival EXPO" was held on the wooden deck of the marina. Visitors can purchase official event jerseys, bottles, and other goods at the marquee , as well as buy bike tires, supplemental food, and other items in preparation for the event.
Cairns Post Criterium, Hemingway's Brewery Sprint, and other citizen races were also held. The cheering crowds with craft beers from the brewery in their hands, were excited by the close competition among the strong local riders.
"Choo Choo's Free Family Ride," a 2km fun ride in which kids can participate, saw many families come together in costume, creating a friendly atmosphere.
There was also a BMX exhibition. The pre-day events were enjoyed by everyone, whether they rode or not, including the riders of the main event as well as their accompanying family members.
In 2023, a new 40km MTB race is scheduled to be held as a pre-day event. It is expected to be even more exciting.
Report on the day: Port Douglas Gran Fondo
Start at 6:30 a.m. before sunrise
The competition will start at 6:30 a.m. from the main venue in Port Douglas. The riders split into groups according to the course options and departed one by one.
This may seem like an early start for a fun ride event, but the mornings for Australian cyclists are pretty early.
They usually meet at 5:00-6:00 a.m. for a group ride of about 30km, have coffee at a café, and then go to work or spend time with their families on the weekend. 6:30 a.m. is their usual start time.
Support by local motorcycle groups
A bicycle event would not be possible without the support of a large number of volunteer staff. In addition to staffing aid stations and turnouts, what is especially unique to Cairns is the support provided by a local motorcycle group, "Coral Coast Riders," who lead the cyclists.
Coral Coast Riders are usually out on their motorcycles enjoying the Great Barrier Reef, but they volunteer to help out at triathlons and bike events. They were always smiling and reliable along the way.
A course with spectacular views through two World Heritage Sites
The most attractive thing about this event course is that you can ride through two major World Heritage Sites in Cairns, the Great Barrier Reef and the Wet Tropics of Queensland (the oldest tropical rainforest in the world). The roads are closed only for the event participants, so it is truly a cyclist's paradise!
The jungle-like rainforest trails, vast sugar cane fields, and palm tree-lined beaches offer a series of spectacular sights. The exhilaration of riding a bicycle through the World Heritage Sites with the wind in your face is a luxury experience that is hard to find in other cycling events.
Aid stations where you can experience the natural beauty of Cairns
There are a total of four aid stations on the 100km course (31km, 51km, 70km, and 81km).
While "local gourmet" are becoming the norm at each aid station in Japanese events, aid stations in Australia are very simple; water, supply gels, candy gummies, cookies, and bananas.
If you join an Australian cycling event expecting gourmet food, you may be disappointed, but this is probably because the main focus in Australia is "cycling" itself.
The aid stations are all located at spots with spectacular views.
Rex Lookout, located at the 31km mark, is an elevated observation point overlooking the Great Barrier Reef.
At Palm Cove, the turnaround point for the 100 km course, just past the gate, McDonald's and the Lifesaving Club collaborated to offer burgers (for a fee). A chance to take a break on the beach with a burger in hand while watching lifesavers training in the ocean. This is a sight that is hard to find on a ride in Japan.
At the aid station "Thala Beach Nature Reserve" at the 81km mark at the end of the ride, palm trees lined up in rows. It is a good place to take a commemorative photo in a very tropical atmosphere.
There are also free mechanics at the aid stations. If you have a sudden mechanical problem, they can help you out.
Ayaka (Editor/Writer)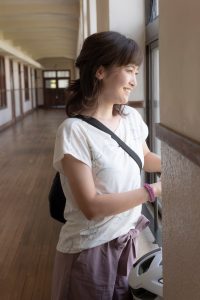 Lives in Brisbane, Queensland, Australia
Ayaka started cycling as soon as she began her career in 2011, and fell in love with the concept of "cycling and travel."
In 2017, she studied abroad in Australia to explore bicycle tourism. She wrote a series of articles "G'day, Australia! – Cycling Letters from Brisbane" for Cycle Sports.jp for a year. After returning to Japan, she worked as an interpreter and MC for a bicycle NPO while working as an editor of English learning materials. She is currently providing information on Australian bicycles and culture on a cycling travel website "TABIRIN" and live broadcasting program "Ayaka's Visible Radio from Australia" (Omusubi Channel).
Ayaka's motto is "Dive into what you love. Live with passion."
Twitter https://twitter.com/aya_p_BNE (Username aya_p @aya_p_BNE)
Instagram https://www.instagram.com/aya_p_14/
Blog http://gdaybabyccino-ayaka.com/
Omusubi Channel: Ayaka's Visible Radio from Australia
https://note.com/omusubi_fjc/n/nd7e6d27c81f1
Post Date:2023.06.01