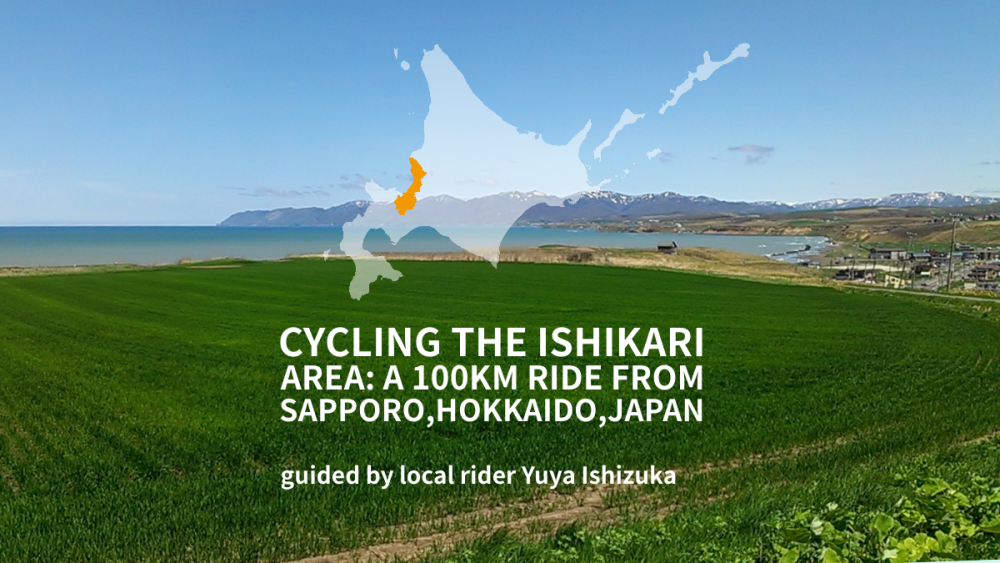 Cycling the Ishikari area :
A 100km ride from Sapporo , Hokkaido ,Japan
Guided by local rider Yuya Ishizuka
Hello everyone,
I am Yuya Ishizuka, a cycling guide covering the entire Hokkaido region with a focus on Sapporo. Today, I'll be introducing you to a scenic cycling route that embodies the essence of Hokkaido, stretching around Sapporo, the largest city in Hokkaido.
When you think of Sapporo, you might picture landmarks like the TV Tower, Clock Tower, and the bustling entertainment district known as "Susukino," giving the impression of a bustling metropolis. However, if you drive just 30 minutes from Sapporo, you'll find the vast natural beauty that Hokkaido is known for.
Our route for today is a comfortable cycling course of approximately 100 km, starting and ending at "Ainosato" – the northernmost point of Sapporo. This tour route is often recommended to our international guests as well.
Our starting point is the "JR Ainosato Park" station, right next to the Sapporo Cycling Tour Station of Cycling Frontier, Inc.
In just 5 minutes of riding, you'll enter the cycling course set up along the embankment of the Ishikari River.
Suddenly, you'll come across the expansive landscape of the Ishikari River and be moved by the horizon stretching before you.
After about 10km along the embankment, you will cross the Ishikari Kakokyo Bridge and proceed towards the mouth of the Ishikari River. The stark and desolate landscape of the lower reaches of the Ishikari River is not something you often get to see on a regular trip.
Leaving the Ishikari River behind, as you head north along the coastline, you'll encounter the first uphill climb of the day. At the top of a small hill, you'll be greeted by the coastal scenery of the Mourai district.
Until now, it has been a comfortable road with almost no traffic, but for the next approximately 12 kilometers, you will be riding on a main road, so please be cautious of cars.
At the roadside station "Airodo Atsuta," please savor the unique local delicacy, "batte-ra" (sushi) made from herring, which you can only taste in this area. I also recommend trying the soba noodles made with locally sourced buckwheat flour at the soba shop.
After passing through the town of Atsuta, enter Route 11 and head inland. From here, convenience stores are rare, let alone houses, so make sure to refuel in Atsuta. Route 11 has very little traffic, good road conditions, and even cyclist-friendly navigation lines, making it an extremely comfortable route. The elevation gradually increases as you continue.
After about a 3km climb, you'll enjoy a comfortable descent and then merge onto Route 28. Alongside the "Toubetsu Dam," the road remains pleasant as you gradually descend, heading towards the town of Toubetsu.
Just before reaching the town of Toubetsu, there is a shop selling exquisite soft serve ice cream, so let's make a stop.
Just before returning to Sapporo, we will also make a stop at a sushi restaurant called "Ginrin" in a small village called Futomi.
And right next to the Ginrin Sushi restaurant is the ROYCE' chocolate factory, one of Hokkaido's specialties! You absolutely must make a stop here. Another soft-serve ice cream for the day! Indeed, a Hokkaido ride is filled with delicious treats. You'll end up eating more calories than you burned during the ride.
After leaving the ROYCE' factory, take a little detour. Let's also enjoy the horizon of the "Kitayaofuru" district. A straight stretch of over 5 km gives you a true sense of Hokkaido, but it's hard to believe that this is just the neighboring town of Sapporo.
From Kitayaofuru, ride a little further, cross the Ishikari River on the Sapporo Ohashi Bridge, and the breathtaking 100km scenic route comes to an end. With overall low traffic and minimal traffic lights, along with changing views of the horizon, coastline, beautiful mountainous areas, lakes, and a variety of delectable foods that might make you eat more than you burned in calories, this course is truly captivating. When you visit Hokkaido, be sure to try the ride from Sapporo to the Ishikari area.
Cycling Frontier also offers private cycling tours on this route every day. We look forward to having you join us!
http://hokkaido-cycling.jp/tour/cycling-tour/summer-cycling/1487.html
Yuya Ishizuka
The founder of Cycling Frontier and Technical Committee member of the Japan Cycling Guide Association. From a young age, he enjoyed fishing and cycling every day. During junior high, he circumnavigated Hokkaido on a touring bike, and he began competitive cycling seriously in high school. He has been part of overseas teams and corporate teams and continues to participate in races as a hobby. Over a quarter century of being a third-tier athlete, he has mastered the essence of leisurely cycling.
Post Date:2023.09.01