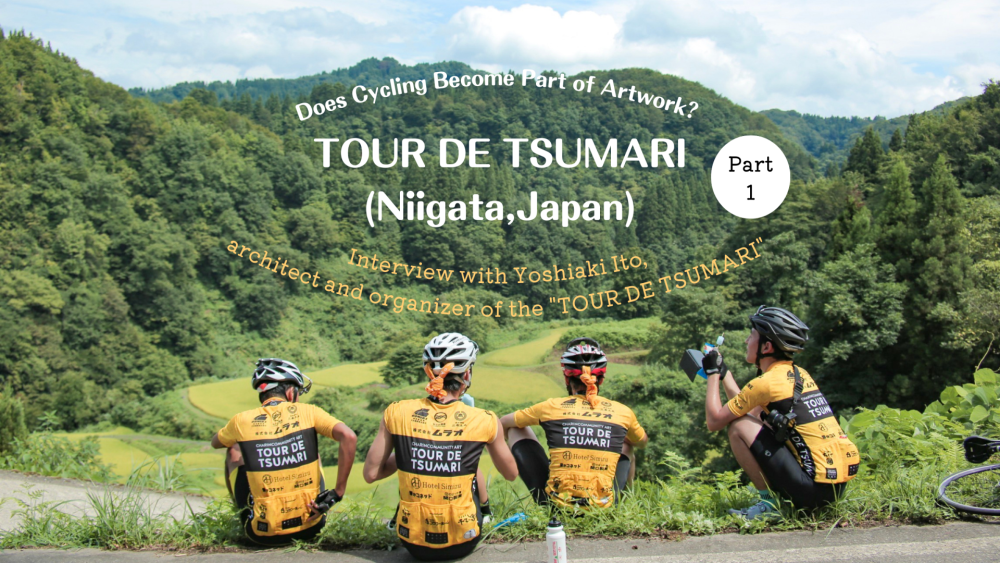 Does Cycling Become Part of Artwork?
『Interview with Yoshiaki Ito, architect and organizer of the "TOUR DE TSUMARI")(Part 1)
Long rides bring joy to cyclists. The "TOUR DE TSUMARI" is held every year in Niigata Prefecture with a course which covers a maximum distance of 120km. Because it is not a time trial race, the participants can enjoy the scenery and the hospitality of the local people. Moreover, another notable point is that this event is an artwork itself with the theme of moving. The originator is Yoshiaki Ito, an architect and cyclist. We interviewed Mr. Ito about the history of the " TOUR DE TSUMARI" over two sessions.
*part2 is here
Table of Contents
Unexpected encounter
Sometimes we come across something that shakes our soul. Games, music, movies, fashion, cars, scenery, food, animals, work, lifestyle, we don't know what it is. There is no reason or logic behind it. We just get to love it. And fiercely, too. The soul stirring will change the rest of our life.
Architect Yoshiaki Ito first encountered road biking when he was a university student. Since then, he has been using a bicycle as his primary mode of transportation almost every time, and he has even organized the "TOUR DE TSUMARI" cycling event. This is an event in which we can cycle through the woodland of Echigo-Tsumari (Niigata Prefecture) and the banks of the Shinano River. What makes this event different from ordinary bicycle-related events is that participants can ride while viewing artworks and architectural works. It is not a time trial race. However, it is also a challenging event, with a course covering a maximum distance of 120 km. Since its inception in 2006, the event has been held almost every year with the cooperation of local people, led by Mr. Ito.
Mr. Ito says that the trigger was soccer. The story goes back to 1990.
"I bought a TV with BS to watch every game in World Cup in Italy. Then I happened to watch a foreign bicycle race. I found myself getting really into it." What Mr. Ito watched was "Tour de France 1990" (June 30 to July 22). It is a road race covering approximately 4,000 km in 24 days, and Greg LeMond, dressed in yellow cycle wear, won the event for the second year in a row and the third time in total.
The "Tour de France" was intense experience
Watching the "Tour de France" via satellite was an intense experience. With a difference in elevation of 2,000 meters and a distance of approximately 3,500 km, this is a grueling race that literally circles France. The big national event, the riders receiving cheers like rock stars, the team and individual tactics, Mr. Ito was captivated. "I have no choice but to buy a road bike," he decided to order a chromoly-frame road bike from LEVEL, a neighborhood cycle studio. Still, it was a strange coincidence that Shiko Matsuda, a well-known frame builder, had his factory in the neighborhood. The process of adjusting the frame and assembling the parts had something in common with architecture, Mr. Ito said.
Mr. Ito's body "extended" after getting a road bike that fits his body. He began to enjoy biking tens of kilometers on a daily basis. Even after graduating from Tokyo University of the Arts and working at an architectural office, he still commuted by bicycle. However, although there were bicycles in everyday life, "bicycles" did not yet exist in his own field of expression at this time.
It was his friend, artist Yutaka Sone, who expanded his field. When Mr. Ito was introduced to his work, "The Nineteenth Foot of Her", a circle made of connected road bikes, he was frankly surprised to learn that a bicycle could also be a work of art. "Someday, I'll try to make a movie about bicycles, too." Something was about to start again inside him.
Mr. Ito became active as an architect, and attracted attention as an artist. When he stayed at the site in 2000 to prepare for the "Echigo-Tsumari Art Triennale" (Echigo-Tsumari region, Niigata Prefecture), he brought his bicycle with him from Tokyo. Daily travel is approximately 20 km. This was a big surprise to people in the area who live in a car-dominated society. I was looked at as a curiosity, and every day I heard, "What? You ride to the office?" A mail carrier who passed by me on his bike followed me and asked me where I bought my bicycle.
Birth of an event combining bicycles and art
Beautiful scenery is the best reward for cyclists. Far from being tired, I was captivated by the ever-changing scenery of the beautiful woodland. And I loved the villages that appeared from time to time. The "Echigo-Tsumari Art Triennale" is an art festival in which artworks are scattered over a large area, and visitors with tickets can visit the works by car or other means, map in hand. Visitors to the exhibition will be able to see the landscape along with the artworks. At this time, transportation by car is assumed. However, it is not possible to feel the wind and smell of the scenery, even though it's such a beautiful place. "It will be okay if there is a work that connects a place and a place." Mr. Ito came up with the idea of making a work out of the act of traveling around places on a bicycle.
A few years later, the person in charge of the exhibition shared his thoughts with Mr. Ito, who wanted to make the bicycle event itself into a work of art.
"Mr. Ito, wouldn't you want to create a permanent work as an an architect?" If it is an architectural work, it may remain for tens of years, or even a century or more in some cases. However, with an event, nothing remains after the event. Mr. Ito answered the question, "Isn't it going to disappear?", "If you do it every year, it's the same as a permanent work, isn't it?"
Three-dimensional works such as architecture and sculpture remain in front of me. However, if done on an ongoing basis, it could become a "permanent work." The face of the person in charge who heard the answer brightened suddenly. Mr. Ito's words made the soul of him shake a little.
To be continued
Text_Hideki Inoue
Yoshiaki Ito
Born in Hokkaido in 1965. After completing graduate school at Tokyo University of the Arts, he worked for including an architectural design office before establishing Yoshiaki Ito Architectural Design Office in 2000 (now Ito Cycle, a first-class registered architect office). Based on architectural design, "Small House" (Echigo-Tsumari Art Triennale 2000), "TOUR DE TSUMARI" (Echigo-Tsumari Art Triennale 2006-held annually), "Senju Yatai Plan", "Michi no Iro Strategy" (aoba+art 2016), "100 steps Project", he actively participates in local art events and community activities while focusing on architecture.
Tour de Tsumari to be held on Sunday, September 3, 2023!
Sign up here
*The entry cutoff is on Friday, July 7th, 2023.
http://tdtsumari.info/
Post Date:2023.06.30