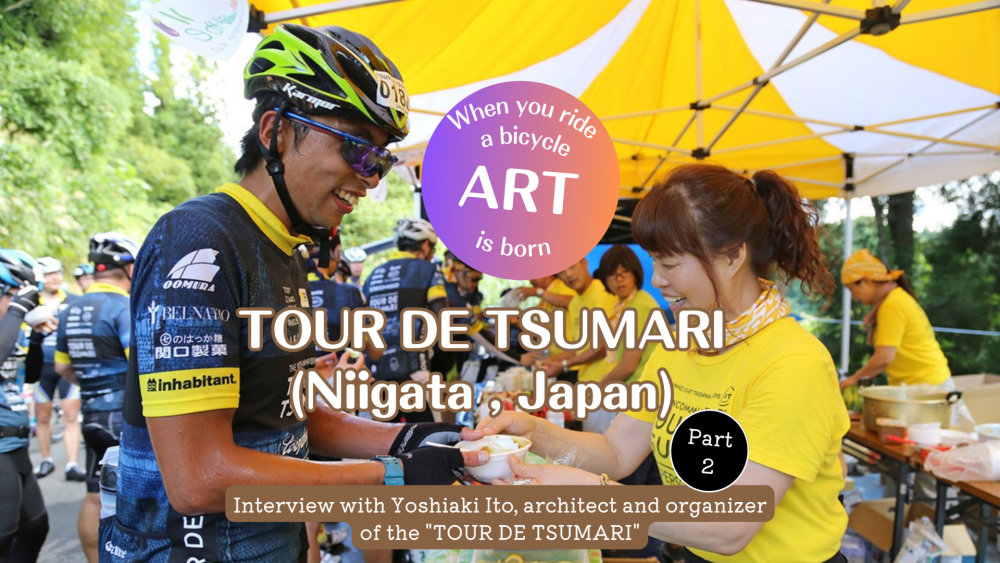 When you ride a bicycle, art is born.
Interview with Yoshiaki Ito, architect and organizer of the "TOUR DE TSUMARI"(Part2)
The "TOUR DE TSUMARI" is held every year in Niigata Prefecture with a course which covers a maximum distance of 120km. Because it is not a time trial race, the participants can enjoy the scenery and the hospitality of the local people. A notable point is that this event is an artwork itself with the theme of moving. The originator is Yoshiaki Ito, an architect and cyclist. Continuing from the last time, we interviewed him.
*part1 is here
Fusion of Exhibition and Race
When most people think of an exhibition, they may imagine an exhibition at a museum. The "Echigo-Tsumari Art Triennale", held once every three years, is one of the world's largest international art festivals, with artworks scattered in over 200 villages. If we consider museum exhibitions to be rational, this way of showing artworks is the exact opposite, a very inefficient style of exhibition. With a map in hand, people look around for artworks. It is not possible to see all the artworks in one day. The time spent visiting the artworks is probably longer than the time spent viewing them. That is why the art festival stimulates the intellectual curiosity of not only art lovers but also a wide range of people. Walking through the woodland, drinking spring water, eating local specialty soba noodles, and asking local people for directions. It is an exhibition where you can find enjoyment by yourself.
At first, Yoshiaki Ito envisioned a multi-day race like the Tour de France. He thought of holding the race as an "artwork" at the "Echigo-Tsumari Art Triennale" scheduled two years later. However, holding a large-scale race requires traffic restrictions and various coordination with government and other authorities. Mr. Ito spent two years thinking about the structure of the course and events. He set a shorter distance, a course that could be completed in one day, and a tour-style event format to visit the artworks scattered throughout the venue. After consulting with the police, they finally gave permission that does not need traffic restrictions.
After involved in the accident, a participant said "I want you to continue the event."
The first "TOUR DE TSUMARI" held in 2006 seems to have been very idyllic. "It was an event where we rode around together and I explained the artworks." Ito recalls. After the event, the management staff said, "Let's aim for 500 participants next time." However, the management staff, who had no experience with events, was overwhelmed even with 100 participants. There was also an accident. A participant who tried to avoid a child overturned, the bicycle was wrecked, and the participant was injured. Fortunately, the child was not injured. The injured participant said to Mr. Ito.

"We participate because we like the event. It's such a great event, so I want you to continue it."

Instead of being offended, he thanked Mr. Ito for holding the "TOUT DE TSUMARI". A person who was injured participated the following year in good spirits. Managing a bicycle event with so many people riding was harder than expected. However, the management staff, consisting of locals, has gradually become more optimistic. If we can hold an event of 100 participants, 300 might be possible. And if we can hold an event of 300 participants, we may be able to have 500. With the support of an optimistic staff, the scale of the event grows with each passing year. It has now become a major event with 1,000 participants.

Handmade Aid Station
The current course is divided into three courses of 120 km, 90 km, and 70 km, starting and finishing at Mion Nakasato, a hot spring facility in Tokamachi City. The course is set up so that both beginners and advanced cyclists can enjoy the ride, and the artworks and scenery are worth seeing.
Participants pass aid stations and checkpoints for rest and to replenish water and calories, and ride on public roads without competing for time. These aid stations are run by local volunteers. A rich array of foods including watermelon, plums, tomatoes, ice cream, bamboo grass dumplings, curry, and cold soup. Some aid stations even serve paella and soba noodles. While it is a relief to be able to take in water and calories during the race, the hospitality shown to the race participants becomes a memory and is engraved in their memory.
"Various villages are willing to offer aid stations. Since they are places to replenish water and calories, we'd like to place them at even intervals, but if they want to do it, we will let them do so. So, there are some aid stations near each other" laughs Mr. Ito. It is said that if you stop by all the aid stations, you will gain more weight than when you started. They are aid stations full of love and calories.
Even though the scale of the TOUR DE TSUMARI has become larger, what is important, according to Mr. Ito, is the atmosphere of the time when the event was launched. "At the time, some people thought that the TOUR DE TSUMARI was an artwork of the Echigo-Tsumari Art Triennale. Now, as the number of participants has increased, some of them hardly stop at aid stations and do not even look at the artworks. Of course, there can be such participants. However, in the early days, most of the people understood that the event was run by local people in the area." Some of the participants were so moved by the work of the local volunteers that they started volunteering the following year.
Bicycle events that we make by ourselves
As the number of participants grows, various types of people will appear. Since it is not a "race", there are no traffic restrictions and we must adapt to the situation. Naturally, the lives of the locals and pedestrians are given top priority, but on rare occasions, some people ride at high speeds on narrow roads. Although the number of participants is increasing and the event is becoming livelier, Mr. Ito hopes to bring back the idyllic atmosphere of the past. "Now that the event is getting larger, I feel it is necessary for me to convey this message." In order to realize this, Mr. Ito wants people to think of the TOUR DE TSUMARI as something that belongs to themselves.

"I want people to think that the TOUR DE TSUMARI is an event that they make by themselves. If we do that, I think it will continue to be a good cycling event."
People not only participate passively, but also enjoy the event itself regardless of riding time. They immerse themselves in the landscape, appreciate the artworks, and mingle with locals at aid stations. By doing so, participants become part of the race. Finding the enjoyment of riding is probably the real pleasure of the "TOUR DE TSUMARI". The "TOUR DE TSUMARI" will be held again this summer. What kind of drama will be created? It is left to those who can find the enjoyment in it.
Text_Hideki Inoue
Yoshiaki Ito
Born in Hokkaido in 1965. After completing graduate school at Tokyo University of the Arts, he worked for including an architectural design office before establishing Yoshiaki Ito Architectural Design Office in 2000 (now Ito Cycle, a first-class registered architect office). Based on architectural design, "Small House" (Echigo-Tsumari Art Triennale 2000), "TOUR DE TSUMARI" (Echigo-Tsumari Art Triennale 2006-held annually), "Senju Yatai Plan", "Michi no Iro Strategy" (aoba+art 2016), "100 steps Project", he actively participates in local art events and community activities while focusing on architecture.
Tour de Tsumari to be held on Sunday, September 3, 2023!
Sign up here
*The entry cutoff is on Friday, July 7th, 2023.
http://tdtsumari.info/
Post Date:2023.07.07