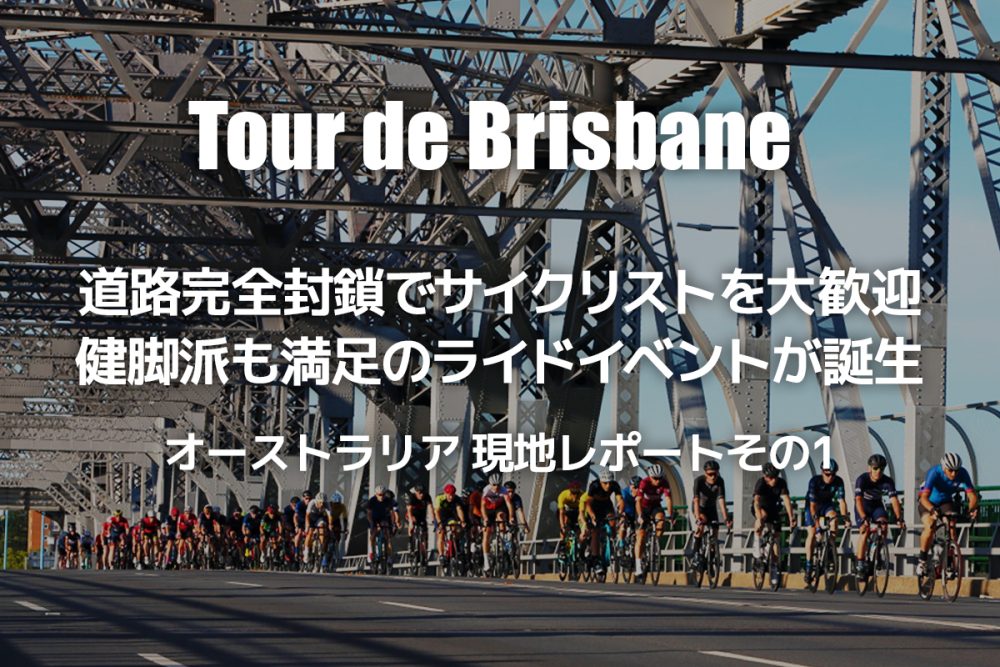 Tour de Brisbane inaugural Report (1)
Recreational Ride Completely Closed to Public Roads is Born
The Gold Coast is Australia's largest tourist and recreational area. Brisbane, also in Queensland, has just launched a new cycle festival. Here is a report on one of the main events, the "Tour de Brisbane," a fun ride that everyone is sure to enjoy.
*This article is a reprint of a July 2019 article.
Text: Yuichi Ohya, Photos/Composition: Global Ride Event Office
---
The state of Queensland is in the northeast of Australia. Brisbane, the state capital, is known as Australia's third largest city after Sydney and Melbourne. Modern buildings, shopping malls, and historical buildings blend well with the large Brisbane River to create a unique landscape in this leading Oceania city, which is about a 10-hour flight from Narita Airport.
Australia is a vast country, about 20 times the size of Japan. Therefore, cars are a necessity, and the transportation network is well developed. Brisbane is no exception, and one of its most distinctive features is its well-developed bicycle paths. There is a bicycle pedestrian path along the Brisbane River, and even a special bridge for crossing to the other side of the river. There is also a wide range of bicycles available for rent, which are a great source of transportation for residents and tourists alike. From the above, you can see that cyclists are citizens of Brisbane.
Cyclist-friendly and home to Queensland's largest cycling event, The Brisbane to Gold Coast Cycle Challenge (aka B2GC), the Brisbane Cycling Festival is a major new addition for 2019.
This is an 18-day event from Thursday, March 28 to Sunday, April 14, with a variety of bicycle-related events to be held daily in and around Brisbane. The four main events are the Australian national track championships and road race series championships, the UCI Gran Fondo World Series, and the Six Day, a showcase track event known as a six-day race in Japan.
The UCI Gran Fondo World Series is, as the name implies, an international amateur road racing event sanctioned by the UCI (Union Cycliste Internationale). The 2019 season featured qualifying competitions in 21 locations around the world, with the Tour de Brisbane being one of them. The event, which takes place on a route connecting the city center with the surrounding mountains, is the first cycle event that the City of Brisbane has held with public roads completely closed to the public. And the "Amy's Ride" recreational ride took advantage of the traffic restrictions.
This Amy's Ride is divided into three categories by distance: 110 km, 45 km, and 8 km, with local Japanese riders participating in the longest 110 km class. As for the course profile, the distance is approximately 112 km and the elevation gain is about 1,400 m, so it does not seem so hard compared to a typical Japanese Gran Fondo event (distance around 160 km, elevation gain over 2,000 m). However, perhaps due to time constraints imposed by traffic regulations, the minimum average speed to complete the race is set at 20 km/h, which means that the goal must be reached in approximately 5.5 hours. In that sense, it can be said that the race is quite hard.
Post Date:2019.07.10