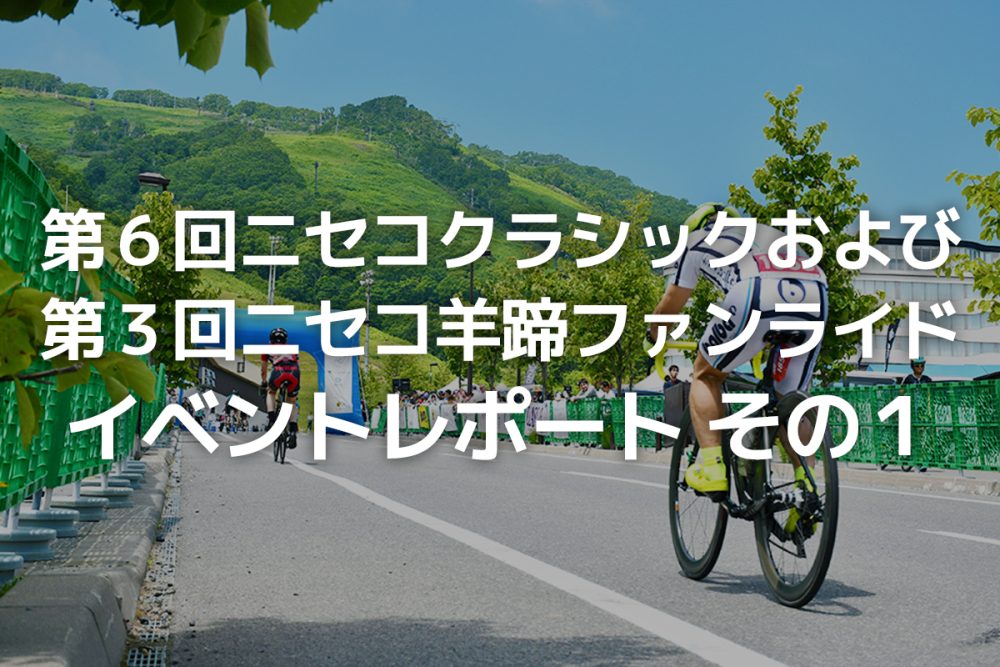 Tourist City Niseko and two ride events (1)
Experience the Niseko Yotei Fun Ride, a fun ride for Casual riders
On the first weekend of July, two cycling events were held in the Niseko area of Hokkaido. One is the Niseko Classic, a UCI-sanctioned citizens' race, and the other is the Niseko Yotei Fun Ride, a loop around Mt. Yotei. With many entrants from overseas, the two-day event had a rich international flavor that is typical of Niseko.
*This article is a reprint of a July 2019 article.
Text: Yuichi Ohya, Photos/Composition: Global Ride Event Office
---
Hokkaido occupies approximately 22% of Japan's land area. Niseko is the generic name for the mountainous and hilly region consisting of Iwanai, Kyowa, Kutchan, Niseko, and Rankoshi Towns, all centered around Mount Yotei and Niseko Annupuri. In addition to being an area that attracts skiers from all over the world because of its excellent powder snowfall, in recent years the number of foreign tourists has been increasing year by year due to the continuous increase in summer activities such as rafting and horse trekking. Of these, it is said that more than half are Australians, and with condominiums for long-term residents being built one after another at the foot of Niseko Annupuri, this is an area where inbound tourism is expanding in particular.
The Niseko area is located approximately 100 km west of Sapporo City and about two hours by car from New Chitose Airport. A major cycling event was held here on Saturday, July 6 and Sunday, July 7. One is the Niseko Classic, a citizen's race, now in its 6th year, which has become recognized as a highly prestigious event, being included in the qualifying round of the UCI Gran Fondo World Championships for the fourth consecutive year. In addition to the 140 km and 70 km road races, a 12.5 km time trial will be held on Saturday.
The other is the Niseko Yotei Fun Ride on Saturday. As the event name suggests, this is a long ride event for anyone over junior high school age, with three distances to choose from: 175 km, 100 km, and 56 km. The key point of both courses is to circle around Mt Yotei. The course is supervised by Masatoshi Ichikawa, who finished the 1990 Giro d'Italia in 50th place overall.
Our staff attended both events this year and here are their reports. Let's start with Saturday's Niseko Yotei Fun Ride. The course was a long ride of 100 km (about 1,100 m elevation gain), starting at the Kutchan-cho community center and connecting 6 aid stations scattered around the Niseko area in a counterclockwise direction.
Image source: Yotei Fun Ride official website
As with most long ride events, traffic is not regulated, so there will be general vehicle traffic, and if the light is red, the traffic will stop. However, because this is Hokkaido, the traffic is so light that it is unthinkable in the Kanto region, and we only pass each other once in a while. There are almost no traffic lights. In the endless fields, the potatoes are just beginning to put on their white and light purple flowers, delighting the participants' eyes. A straight road with gentle ups and downs stretches through it, and the huge grass rolls that appear from time to time remind us that we are driving in Hokkaido. In addition, the roads are wide, staff who participated in the ride praised the ride, "It was just so easy to run!
---
Post Date:2019.07.31