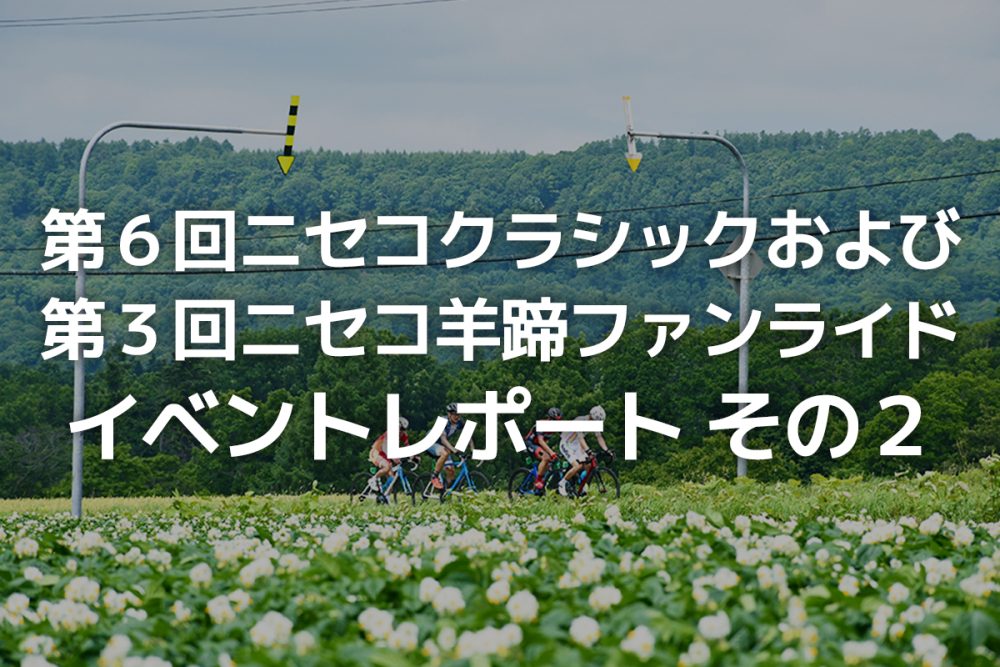 Tourist City Niseko and two ride events (2)
Niseko Classic, Japan's only certified qualifier for the UCI Gran Fondo World Championships
Now, one of the fun parts of a fun ride is the refreshments at the aid stations. AEON Hokkaido was a special sponsor of this event, and a large amount of AEON PB jellies, drinks, bananas, and other items were distributed to support the participants' run.
*This article is a reprint of a July 2019 article.
There are always sentinel staff stationed at points where turns are to be made on the course, as well as accompanying staff to deal with mechanical problems, and other support systems are in place so that participants can concentrate only on running. Incidentally, Mt. Yotei, which is rarely seen at this time of year, made an appearance, and together with the vast landscape typical of Hokkaido, the trip was a very memorable experience.
In addition, original T-shirts were given out as participation prizes, and at the post-goal event, various outdoor brand items handled by the sponsor, Ikeuchi Group, were offered as raffle prizes. In addition, images taken along the way will be freely downloadable, a nice perk for today's social networking-loving cyclists.
Next, I would like to talk about the Niseko Classic. This citizens' race, modeled after the Tour de Okinawa held every November in Okinawa Prefecture, started out as a hill climb race and has grown into a full-scale road race held on closed public roads over the past six years. This year marks the fourth season that the event has been included in the qualifying round of the UCI Gran Fondo World Championships (hereinafter referred to as the UCIGFWS). This qualifying competition will be held in 21 locations around the world for the 2019 season, with only Niseko and India being held here in Asia. Competitors placing in the top 25% in each category will be eligible to participate in the finals (Poznan, Poland in 2019).
Therefore, there were many entrants from overseas who wanted to advance to the finals, and of the 1,200 entrants in the road race category, a whopping 20% were foreigners this year. After Singapore and Taiwan, the number of participants from Australia, perhaps due to the location of Niseko, as explained at the beginning of this report.
---
Post Date:2019.07.30