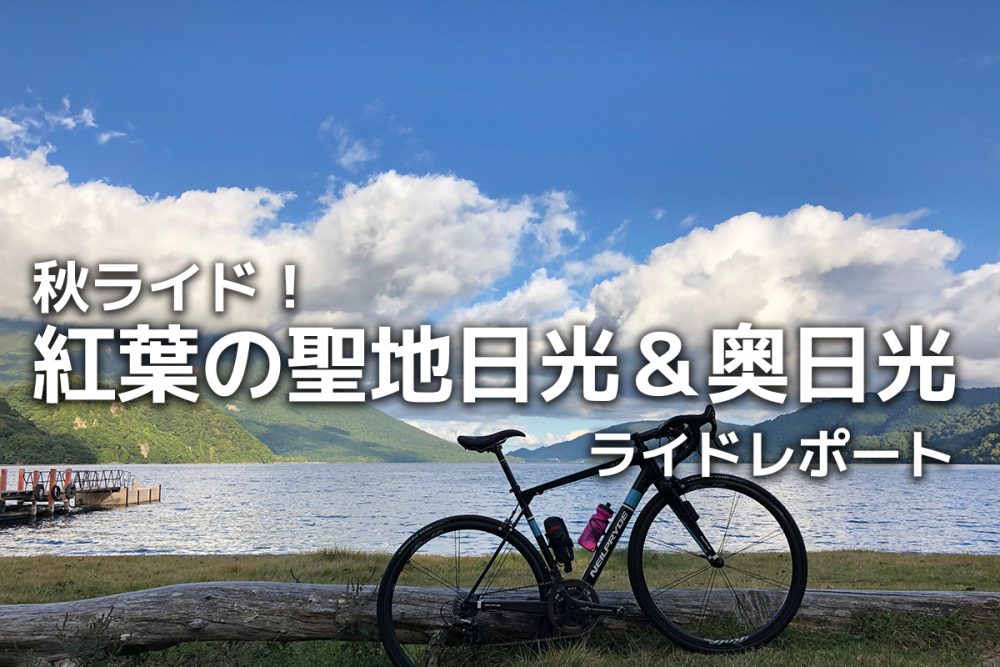 Autumn Ride!
Report on the Ride to Nikko & Oku-Nikko, the Holy Land of Autumn Leaves
Table of Contents
1. Review of Oku-Nikko once again
2. Ride begins at Tobu Nikko Station
3. First, visit the Nikko Toshogu Shrine, a staple of Nikko.
4. Lightly refuel before today's main course.
5. Iroha slope Ride, start!
6. Through the tunnel, the goal! & Lake Chuzenji, the beginning of Oku-Nikko
7. Start of Chapter 2, Oku-Nikko Ride
8. Beyond the closed gates, a bike path like something out of a movie!
9. Arrive at Senjugahama Beach, on the other side of Lake Chuzenji!
10. Bonus: The way home is also spectacular.
11. summary
・Nikko & Oku-Nikko Cycling, with its sights and varied ups and downs
・I'm not half as excited about the fall foliage as I should be!
・A sense of reserve on the bike path to Senjugahama Beach!
・If you want to enjoy the sights at your leisure, an early morning start is a good idea.
・Don't forget the lights!
---
Where are you going this year? Fall Rides
October is finally here and cycling season is upon us. Although the COVID-19 has limited our summer outings, the GOTO Campaign has begun, and the desire to ride is rising!
I took an early trip to Oku-Nikko in Tochigi Prefecture, where the beautiful autumn foliage is just around the corner.
*This article is a reprint of October 2020 article.
Review of Oku-Nikko once again
Oku-Nikko, where many of Nikko's most famous autumn foliage viewing spots are concentrated, is the northwestern part of the city that rises in elevation even higher than Kegon-no-taki Falls, west of Tobu Nikko Station.
This area is also called "unexplored region." The elevation difference brought by the Nikko Mountain range, represented by Mt. Nantai, and the environment of water sources such as lakes, waterfalls, and wetlands combine to create a wide range of concentrated nature.
The autumn leaves, which change color due to the difference in temperature, are especially vivid and beautiful, and the area is a popular sightseeing spot for visitors in autumn. The autumn leaves that color the shores of Lake Chuzenji are a sight to behold. This time, we practiced riding to Lake Chuzenji and to the Senjogahara wetlands, which are even richer in nature.
Ride begins at Tobu Nikko Station
The Tobu Isezaki Line's limited express train, Kegon 21, which starts at Asakusa, takes less than two hours to arrive at Tobu Nikko Station. Assemble your bicycle here.
The area around the station was spacious and there was plenty of room to stop and assemble.
"Nikko Spring Water" is located at the rotary in front of the station. Nikko is rich in water sources, and you can find delicious soft spring water here and there. The spring water in front of the station (with a faucet!) is also drinkable, so we quickly filled up a bottle and were ready to go.
First, visit the Nikko Toshogu Shrine, a staple of Nikko.
At any rate, the ride is a visit to Nikko Toshogu Shrine, Nikko's representative tourist attraction.
The gentle uphill for a little over 2 km is just right for a warm-up.
Kamihashi, a wooden vermilion-lacquered bridge at the entrance to Nikko's shrines and temples. Like the Nikko shrines and temples, it is registered as a World Heritage site and is an important cultural property of Japan. Although I won't be passing through today because of my bicycle and cleated shoes (you can pass through for a fee), I stop to admire the beauty of red over green.
I wandered down a side street looking for a place to park my bicycle. The moss-covered stone wall is a nice atmosphere.
We were told that there were bike racks in the parking lot, but in the end, we could not find a place to park our bikes.
The shopkeeper kindly allowed us to park next to his store and we walked to the temple.
First, we went to the sacred stables, where the famous "three monkeys" (sees no evil, hears no evil, speaks no evil) are engraved on the long press.
Due to the new coronavirus, the number of tourists seemed to be much smaller than in previous autumns. We were able to relax and enjoy our short stay.
Lightly refuel before today's main course.
The next destination is finally Oku-Nikko. A 9.5-km mountain road, Iroha slope, awaits you on your way. In order to finish the race, we needed to recharge our energy, so we went to the Nishi-Sando Tea House, a new spot at the foot of the western approach to Nikko Toshogu Shrine.
Nikko Gourmet restaurants line the streets, making it the perfect place to take a break after visiting Nikko. This time, we went to Nikko Drabata-san, which is sure to give you a good dose of calories.
The store was created by Izawa Strawberry Farm, which manufactures and sells gelato and pudding that make the most of the ingredients. "Nikko Drabata-san" butter dorayaki filled with butter cream, and "Nikko Dragella-san" filled with whole gelato come in a variety of flavors.
After much hesitation, I decided to go with the pistachio "Dragella-san".
After getting pumped up with something sweet, it's time to head to Iroha slope, the main part of the Oku-Nikko ride.
Iroha slope Ride, start!
Iroha-slope is a road connecting downtown Nikko, Lake Chuzenji and Oku-Nikko. It consists of two winding routes, the first Iroha slope (downhill only) and the second Iroha slope (uphill only). The two slopes total 16 km and have 48 curves, the same number of Hiragana.
This is the 9.5-km long second Iroha slope.
Each undulating curve is marked with hiragana "i", "ro", and "ha", and consists of 20 curves up to "ne". (The first Iroha slope is from "na" to "n").
The gradient is not as steep as I was prepared for, perhaps because of the fine meandering (maximum gradient of 10%, average of about 5.5%), and the view is enjoyable.
Just past the "ta" curve, we arrived at the Kurokamidaira Viewing Platform.
Although there were clouds, we could see quite far. Although we were still at the halfway point of Iroha slope, I felt a sense of accomplishment when I could see how far we had climbed up to this point.
A cyclist is climbing the hill he just came up.
My impression so far is that there is very little traffic, probably because it is a weekday. The two uphill lanes are very nice, and the cars are very friendly to us.
When we reached the "Akechidaira Viewing Platform" ahead, the Iroha slope, as it is generally called, was over. The total distance was about 7 km.
What was unexpected was the tunnel ahead. The Akechi First Tunnel and Akechi Second Tunnel together were nearly 1 km long.
Headlights and taillights are a must.
Through the tunnel, the goal! & Lake Chuzenji, the beginning of Oku-Nikko
After passing through the tunnel, the main gate to Oku-Nikko, Futaarayama Shrine Chugu Shrine Otorii (Grand Gate) came into view.
Lake Chuzenji stretches beyond the torii gate. The clouds are much closer, indicating a higher elevation.
At the end of September, the temperature at Lake Chuzenji was around 20 degrees Celsius. The air was cool, so I was right to bring a light gilet and arm warmers.
Continue north along the lakeside to the lunch point, Shoubugahama Rest House.
I chose the set meal of rainbow trout caught in Lake Chuzenji and soba noodles. The freshly grilled rainbow trout had a nice, flaky flesh and just the right amount of salt (it takes about 20 minutes to grill the trout, as it is cooked to order).
The soba noodles are also hearty.
Stretch out in a seat overlooking the lakeside.
Start of Chapter 2, Oku-Nikko Ride
I have already had a lot of fun on the way here, but I still have plenty of energy to spare. We decided to continue our ride to Senjogahara, which stretches further northwest of Lake Chuzenji. In addition, we heard that the course leading to Senjugahama Beach on the west side of the lakeside is quite attractive, so we decided to extend our visit there as well.
First, from the rest house, head north on Route 120 to Ryuzu No Taki Falls.
The name of this waterfall comes from the way the water rushes down from Mt. Nantai and splits on a large rock near the basin of the waterfall, resembling a dragon's beard. It is said to be the first place in Oku-Nikko where the autumn leaves begin to change color.
Some trees were beginning to change color, but the maple trees along the water's edge were still green. It will be a sight to behold when they turn bright red.
Further along the national highway, Senjogahara is on the left. Located in Nikko National Park, this marshland is as vast as 400 hectares. Although you cannot enter the marshland for conservation purposes, nature trails and hiking courses are available.
After advancing to the Sanbon-matsu Tea House, we turned around and rejoined the national highway.
This time, as you drive south, you will suddenly come to a fork with a gate on your right.
Beyond the closed gates, a bike path like something out of a movie!
Apparently, this is a popular cycling route to Senjugahama beach. There are no signs, and entry is hesitant.
While I was pondering, a person at the Akanuma Nature Information Center told me that bicycles could enter from the side of the gate.
They say that it is a one-way path to Senjugahama beach. Usually, one-way cycling courses are avoided because the return trip tends to be boring… but is it really that attractive?
When I started running, I could see why. Paved road with no car traffic (but there are people hiking. It is wise not to speed), the exhilaration of riding straight through brightly lit groves of trees, and the location of the bike ride in the highlands.
The stream that appears from time to time has the appearance of a clear stream running between moss-covered rocks. It looks like a movie set.
Arrive at Senjugahama Beach, on the other side of Lake Chuzenji!
After a gentle descent, we arrived at Senjugahama beach. A quiet lake and a small pier against the backdrop of cloud-covered mountains.
Not a shadow of a person in sight, and you have the spectacular view all to yourself!
A cup of "Nodate coffee," which I enjoyed on my last ride.
Although it was still light, the autumn sun set early. We left Sentega-hama without staying long, even though our hair was pulled back.
Bonus: The way home is also spectacular.
When we stopped again at Senjogahara, the sun was just about to set.
The neighborhood gets bear (!) when it gets dark. Yes, and it was too late to bike back at this point.
I was picked up by an acquaintance who had come by car to finish today's ride.
We started riding at 12:00 pm and finished the ride at 5:00 pm. The distance traveled that day was 53 km, and the elevation gained was 1282 m!
Summary
・Nikko & Oku-Nikko Cycling, with its sights and varied ups and downs
Although Iroha slope is famous for its steepness, I was prepared for a steep slope, but the gradient never exceeded 10%.
The itinerary had a good number of sightseeing stops, and it was easy to take breaks at key points.
・I'm not half as excited about the fall foliage as I should be!
In Nikko, where red leaves have already been spotted here and there, the number of people is likely to increase when the maple leaves turn color, but it is likely to be a breathtaking sight to see.
・A sense of reserve on the bike path to Senjugahama Beach!
Aside from the accomplishment of the Iroha slope, the cycling course to Senjugahama Beach was the highlight of the ride. The secretive path that begins at the gate, continues deep into the woods, and then suddenly opens up to Lake Chuzenji through a grove of trees, is a storybook, albeit an accidental one. Passage hours (9:00-5:00) are set, but if you are coming to Oku-Nikko, I definitely recommend it.
・If you want to enjoy the sights at your leisure, an early morning start is a good idea.
This time we started a little late, so we had to call a car on the way.
There are many places where you will want to stop and stop your bike, and we recommend an early morning start if you plan to bike the entire route.
・Don't forget the lights!
There is a nearly 1 km tunnel on Iroha slope. Don't forget your headlights and taillights!
---
If you live in the Kanto region, you have probably visited Nikko at least once on a school excursion, but if you ride a bicycle, you will discover a deep charm that you might otherwise miss by bus or car.
For this ride, we decided to focus on areas that are going to become more and more beautiful in the coming fall cycling season.
Global Ride will continue to introduce attractive areas for cycling throughout Japan. Stay tuned!
Post Date:2020.10.14