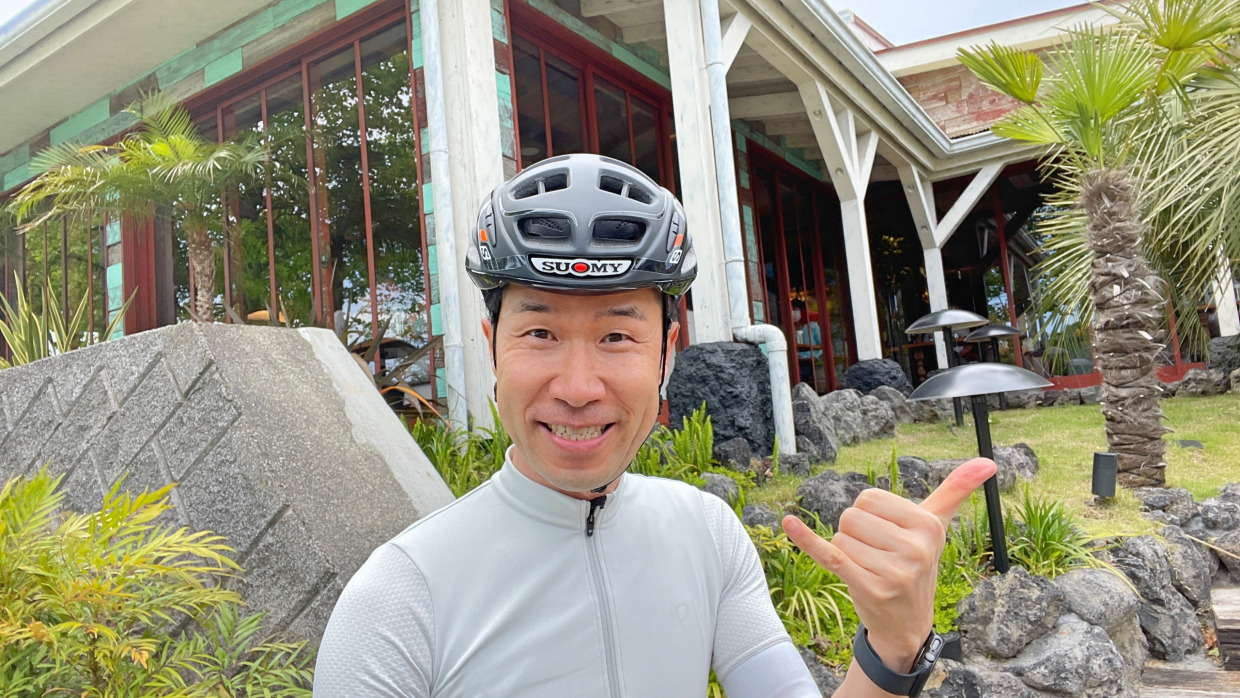 Osamu Kurimura, Director of the Tour of Japan
Mele of Bicycling Participation Report
Mr. Kurimura, the event director of Japan's largest international cycling road race "Tour of Japan," participated in the "Mele of Bicycling"! Here is Mr. Kurimura's report on his participation.
*The event is currently closed.
*This article is a reprint of May 2021 article.
Participation report by Osamu Kurimura
I participated in Mele of Bicycling, a new type of online event organized and managed by Global Ride Events!
This online ride event is a new style of online ride event that was created after the Haleiwa Metric Century Ride, a real ride event held every April on the North Shore of Oahu, Hawaii, was cancelled due to the Corona Disaster.
I immediately perused the official Mele of Bicycling website to see how I could enjoy Hawaii while in Japan.
Well, this is new! All you have to do is find a Hawaii near the area where you usually run, send in your driving log and a photo, and you can get original goods, which is perfect for the Corona disaster!
So, I took up the challenge immediately.
I chose the "Half Metric Century (50km)" course this time.
There are other distances to choose from: 100km/200km/500km, but since it was before the Tour of Japan, we chose a compact distance that could be completed in half a day.
And first, we searched for "Hawaii" around our hometown! As a result, we arrived at the following three "Hawaii" locations.
[1st place] Kona's Coffee
https://stores.konas-coffee.com/111214
[2nd place] Oluolu Aina
[3rd place] Holo Holo Cafe
So, here's a brief report on the 50km run through three "Hawaii" locations!
The starting point is Kona's Coffee. It's a place I always casually pass by, but when I stop to take a picture again, it's totally Hawaii!"
On the way to the second Hawaii, we rode the Olympic Road race course."
We arrived at Oluolu Aina, which means "comfortable table" in Hawaiian. I was able to get a nice halo shot, and I'm already feeling like I'm in Hawaii!
The usual sky over the Tama River is somehow the sky of Hawaii! (haha)
Our final destination was Holo Holo Cafe, a renovated café that looks like it belongs in rural Hawaii.
We came back to Kona's Coffee again and ran a perfect 50 kilometers!"
What I noticed when I participated in this online ride event was the strange sensation that the course I usually run somehow transformed into Hawaii when I tried running with a renewed awareness of "Hawaii" in mind.
We are still having a difficult time with the Corona disaster, but there are many ways to enjoy it depending on your ingenuity, so why don't you all give it a try?
Click here for Osamu Kurimura's ride course.
Post Date:2021.05.07