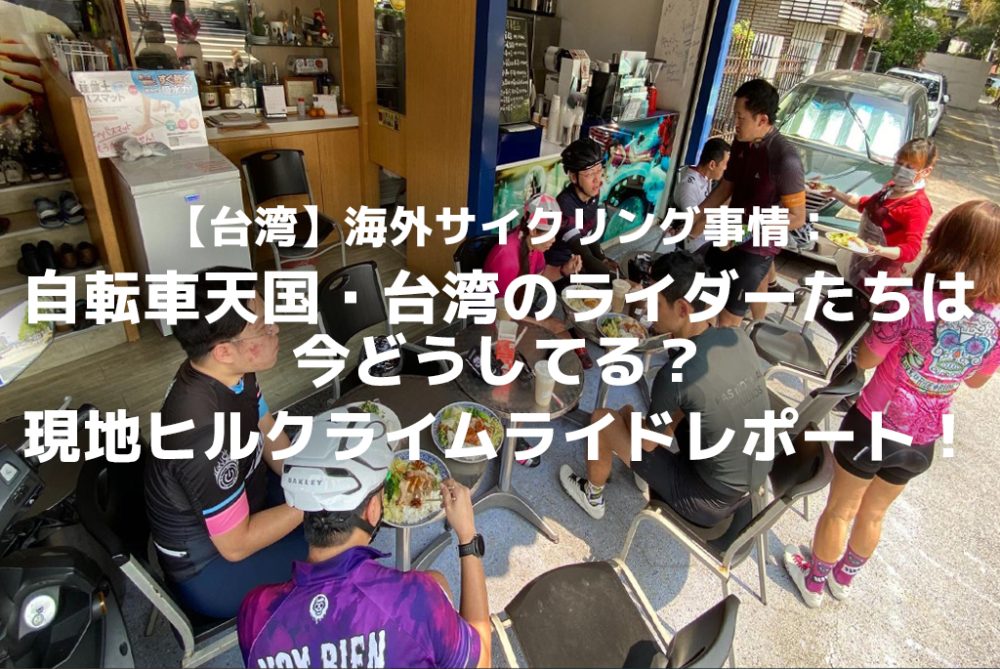 Overseas Cycling Situation 2021
Taiwan Hill Climb Ride Report
Did you know that Taiwan has long been a hot spot for cyclists?
This small island is home to mountains higher than Mt. Fuji, and hill climbing is as popular an activity as long rides.
In addition, there is a large number of bicycle manufacturers, including Giant and Merida, which are well-known to anyone who has even once tried to buy a road bike.
In this issue, Mr. Yasuda, a Japanese rider who has been living in Taiwan for 15 years and was attracted to Taiwan from early on, introduces the charm of hill climbing and his cycling lifestyle.
*This article is a reprint of October 2021 article.
Table of Contents
What is Taiwan like for cyclists?
Taiwan, an island nation about the size of mainland Kyushu, is located a mere 111 km from Yonaguni Island, the westernmost island of Japan.
Although small, there are more than 200 3,000-meter-high mountains in the center of the country, the highest of which is Yushan (Mt. Yushan), which rises 3,952 meters, higher than Mt. Fuji.
The spectacular hill-climb course, which runs from 0 m above sea level to 3,200 m above sea level, has attracted the attention of riders from all over the world.
In addition, there are many scenic bike paths along the sea, rivers, lakes, and suburbs of cities, making it a popular "bicycle paradise" that can be easily accessed from Japan.
Status of New Corona in Taiwan
Taiwan, which took thorough waterfront measures early on, had long succeeded in suppressing domestic infection even as coronaviruses raged in other countries around the world.
However, in May 2021, the number of infected people rose as the disease spread to Taipei City and other areas, with the number of newly infected people temporarily reaching 800 on some days. (Taiwan's population is 23 million, so the number of infected people would be about 4,500 in Japan's population ratio.)
The "Alert Level 1," which until then had no specific regulations other than the quarantine of people entering the country and the requirement to wear masks when using public transportation, was quickly shifted to "Level 3. Strict measures were put in place, such as requiring the wearing of masks when going out, prohibiting eating and drinking inside restaurants and group activities, limiting the number of people in facilities, and managing the flow of people by registering their real names.
Violation of the mask-wearing requirement is subject to reporting and fines. The fine is between NT$3,000 and NT$15,000. The amount of fine is between NT$3,000 and NT$15,000, or approximately 12,000 to 60,000 Japanese yen.
Due to the announcement to refrain from going out unnecessarily, there were many days when no one could be seen enjoying cycling. At the time, sales of cycle trainers increased dramatically.
However, precise countermeasures were effective, and on August 25, the number of infected persons was zero, and the alert level was lowered to "Level 2. Although the requirement to wear masks remains in effect, the request to refrain from leaving the house has been lifted.
Above is the announcement of the number of infections released at the press conference every afternoon; on August 25, there were zero new cases of infection.
New Cycling Rules
Recently, the number of people enjoying cycling again has been gradually increasing.
However, it is necessary to continue to wear masks when out and about, even while riding. Many people wear sports masks or three-dimensional masks that allow for easy breathing. Even common non-woven masks are fitted with a "mask frame" that creates a gap between the mask and the mouth.
Nonwoven masks with mask frames attached. Various shapes and sizes are available at drugstores.
Hill Climb at Yangmingshan, a popular ride spot easily accessible from Taipei!
This summer, I also enjoyed cycling to Yangmingshan, a popular hill-climbing area north of Taipei, for the first time in many years with a very few friends.
Yangmingshan is a national park of approximately 11,338 hectares consisting of multiple mountains. It is rich in nature, with elevations ranging from 200 m above sea level to a maximum of 1,120 m.
A tourist destination easily accessible from the metropolis of Taipei. It is also a popular hill climb course. We decided to ride the course to a hot spring facility called "Lengshuikeng" near the top of the mountain.
Click here for Lengshuikeng course.
On the day of the tour, we met up with our friends at the National Palace Museum. The National Palace Museum is another tourist attraction and a familiar place for riders to meet up. It is only a 2-30 minute drive from Taipei Station.
That day, like myself, I saw many riders meeting up with their cycling buddies, and I realized that the place was coming back to life.
Long time no ride!
*Some photos were taken on different days
It is exhilarating to see the sky become wider and wider as you run.
If you climb up to the turnaround point, you can see New Taipei City and Taipei City in the distance.
After climbing up to the Lengshuikeng Visitor Center, turn around for an easy descent.
New hard setting with masks for summer hill climbs
Taiwan is located further south of Okinawa and is extremely hot during the summer. In fact, the highest temperature on that day was 35℃, so just hill climbing was quite a challenge. This was the first time for me to ride wearing a mask, but I could not deny that it was hard to breathe.
Masks were wet with sweat, drinking water from a bottle took a moment, and we struggled with all the details of the challenge.
Also, I ended up removing my sunglasses because they fogged up very easily when I wore a mask.
Despite the many hurdles, the exhilaration and sense of accomplishment upon reaching the goal was exceptional. After a period when it was difficult to even ride a bike, it was a deeply moving day for me to be able to experience the joy of hill climbing again.
The true joy of cycling in Taiwan once again
During the Yangmingshan ride, we stopped at a cafe we used to frequent, but it was only for takeout.
However, in addition to convenience stores, Taiwan originally has many food stalls and restaurants with terrace seating, and one of the pleasures for riders is to have a meal with their bicycles by their side.
*A break in the middle of the ride. Photo taken March 2020.
Currently, in-store eating and drinking is allowed only in restaurants with partitions or space between seats and with infection prevention measures in place. Many other restaurants offer only take-out, which is basically for eating back at home. This is because it is mandatory to wear a mask when going out, and eating outdoors may result in a fine.
What I felt throughout the ride
While I enjoyed my first hill climb in a long time, I was still a little sad that there were no aid breaks.
When the alert level is relaxed to "Level 1," activities in the country will be normal and we will be able to ride in groups and stop to eat and drink freely.
Furthermore, by the time Japanese people are able to cycle to Taiwan, major events that are currently cancelled or postponed may be resumed.
In particular, the "Westward Wuling" and "Eastward Wuling" hill climb events, the highest hill climbs in Taiwan, which climb from the east and west to the 3275-meter-high Wuling, are two major events that hill climb enthusiasts in Taiwan have been waiting for. Riders who are confident in their leg strength are encouraged to take on this challenge.
Of course, I hope you enjoy the Taiwanese food as much as you did the ride!
Riders:Kou Yasuda
Lived in Taiwan for 15 years. Started riding a sports bike in 2011 as a way to lose weight and get around. Through bike trips to various places in Taiwan, participating in events, and group rides, he has come to appreciate the charm of Taiwan that he had never noticed before, and now enjoys biking in Taiwan as a reason for being in the country.
Favorite Taiwanese food: beef noodle, stinky tofu, and kòng ròu fàn.
Favorite Riding Spots: Yangmingshan, Wufenshan, and the North Coast.
Currently, he works as a guide rider for Taiwanese travelers at Taiwan Pulse Tour, a company that specializes in planning and implementing sports trips in Taiwan and abroad.
Post Date:2021.10.11