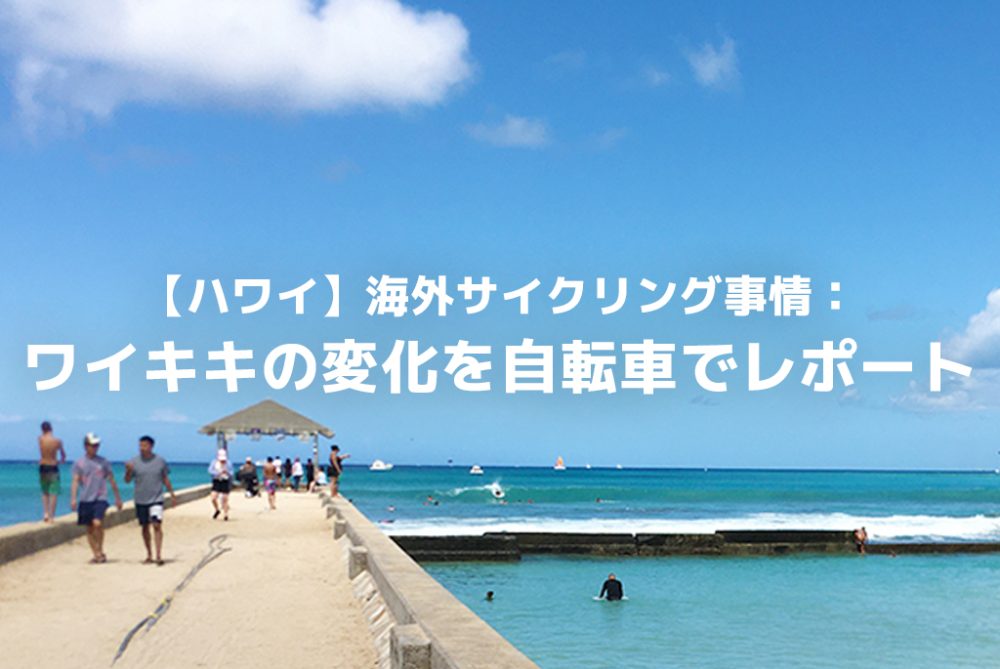 Overseas Cycling Situation 2021
Waikiki, Hawaii
As it is difficult for Japanese people to visit foreign countries, we asked Rod, a Loco(local) rider, to introduce Waikiki, the Mecca of tourist attractions, through a bicycle from "Hawaii," a place that Japanese people feel close to.
*This article is a reprint of June 2021 article.
Table of Contents
Course
Start east of the Ala Wai Canal adjacent to the Waikiki area.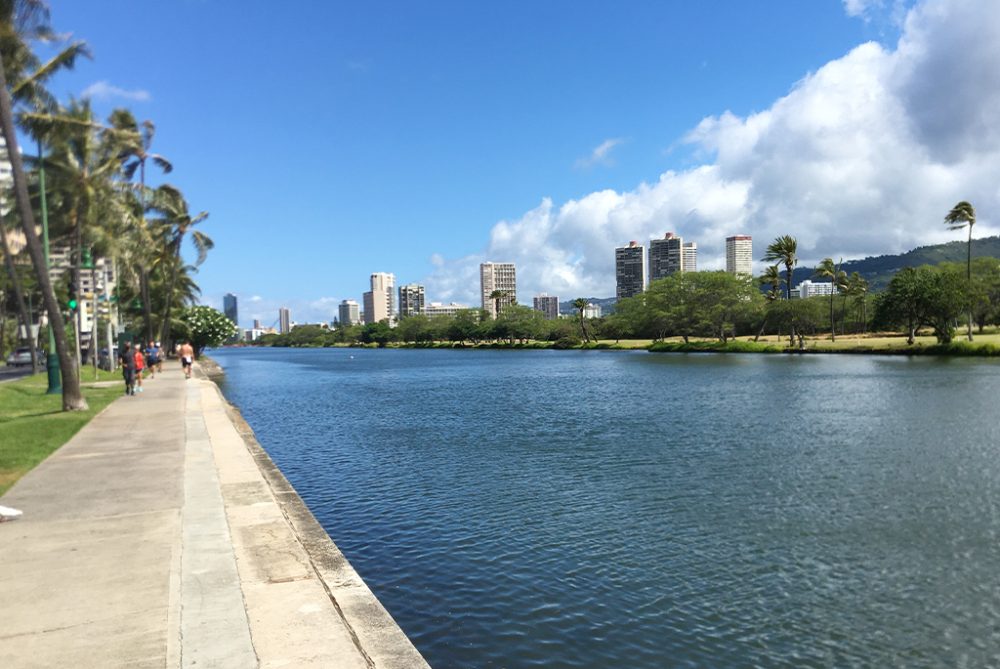 An 8-mile (13 km) ride from the Waikiki Beach Walk on the west, circling around downtown Waikiki and Diamond Head.
New stores are opening, and popular stores with long lines are also opening.
All tourism and retail businesses were closed during the lockdown that began in the spring of 2020, but have since gradually reopened as the lockdown is lifted; tourists have been able to travel to Hawaii since October. Currently, the area is bustling again with domestic travelers from the U.S.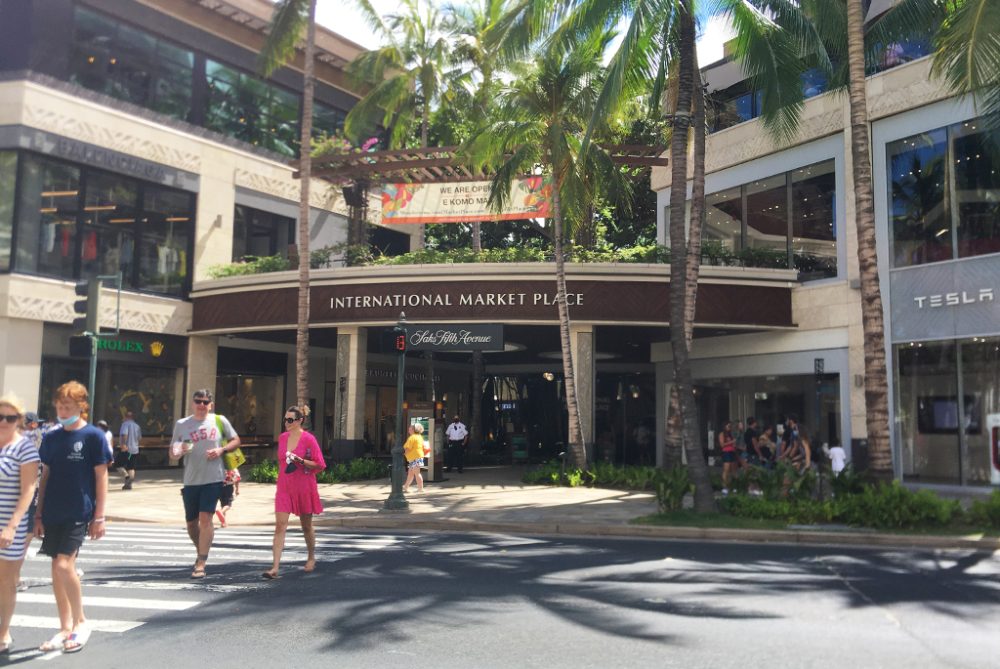 Masks must be worn inside the building, but walking around town without a mask is permitted. An open-air eat-in space has been set up in front of the store, where people can stretch out and enjoy their meals.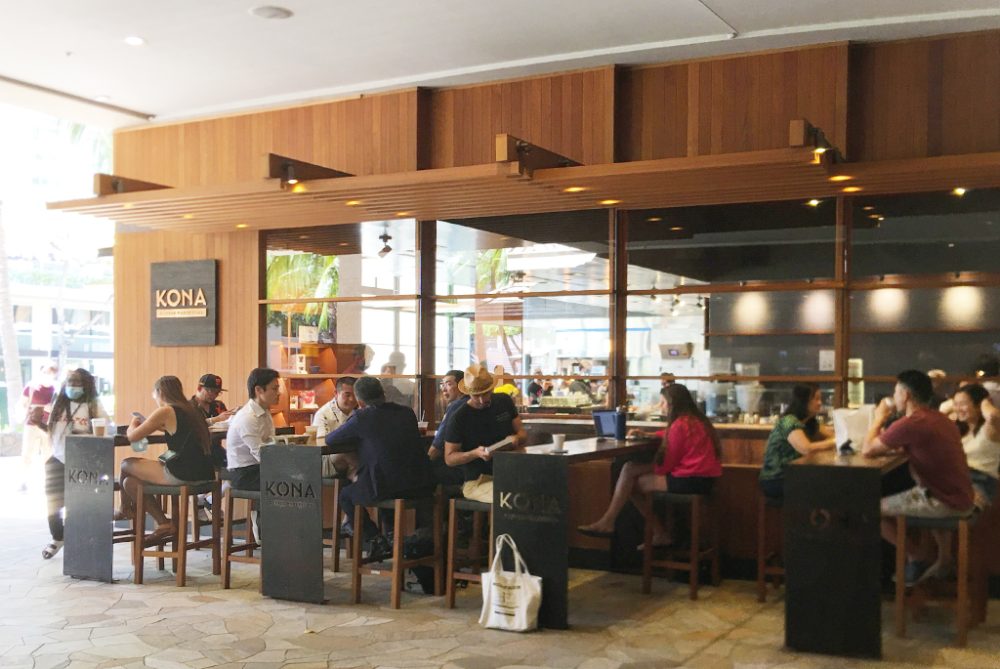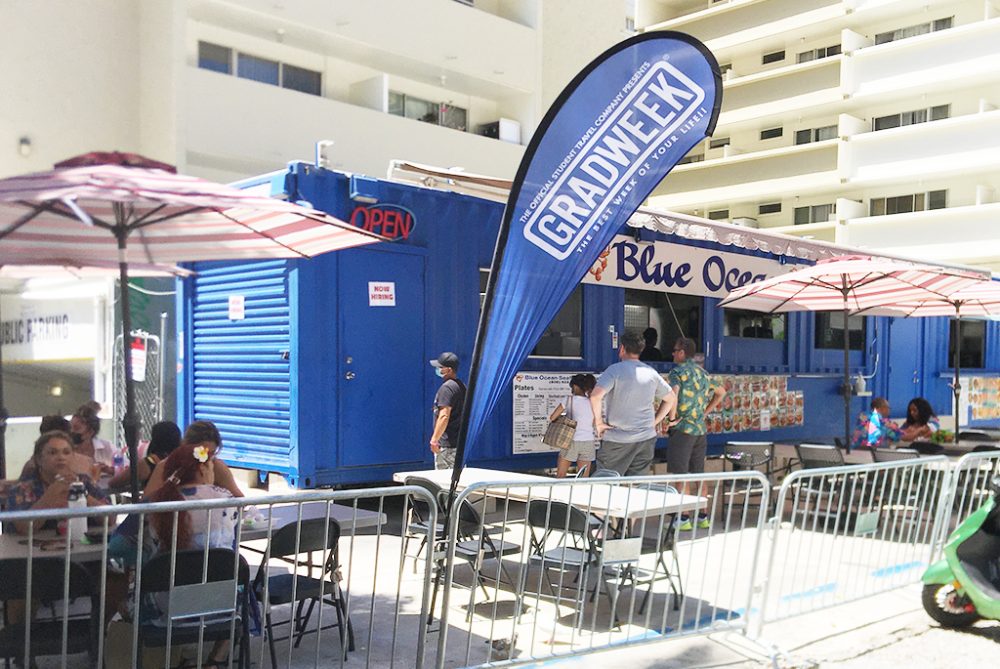 Some popular stores are lined with people from early morning, while others are newly opened, indicating that the tourism industry is returning.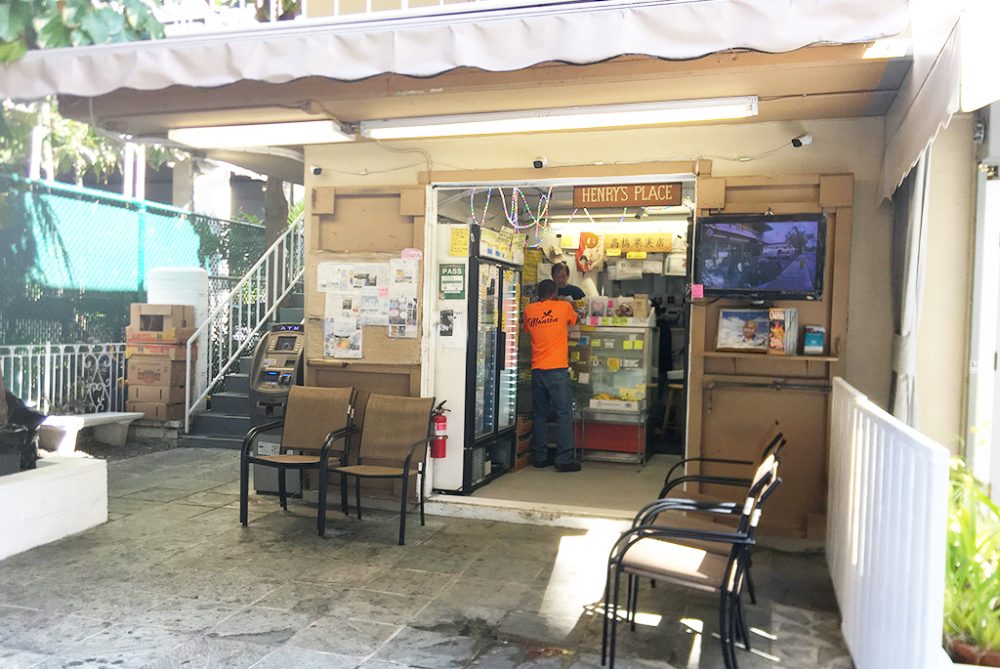 A new cake shop, Waikiki Tea House, will open in 2019 next to the long-established Henry's Place (known to Japanese as Takahashi Fruit Shop), which is popular for its rustic homemade ice cream and sorbets.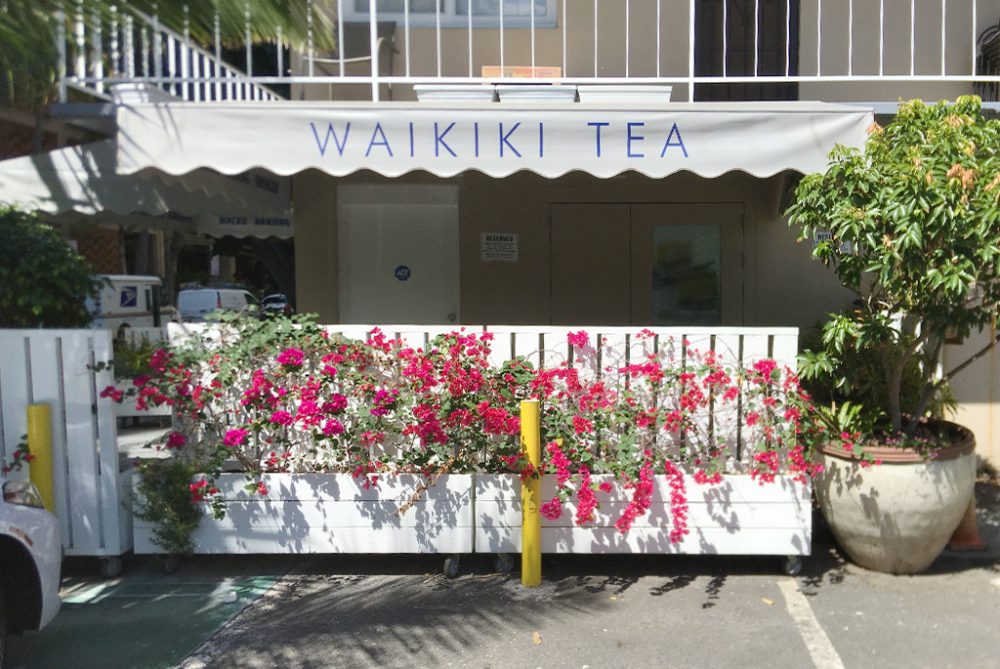 We are sure that everyone in Japan will enjoy the mille crepe from Lady M, a high-end cake brand in New York.
"Eggs'n things" is also very popular in Japan. I see many travelers within the U.S. are currently waiting in line to enter the store.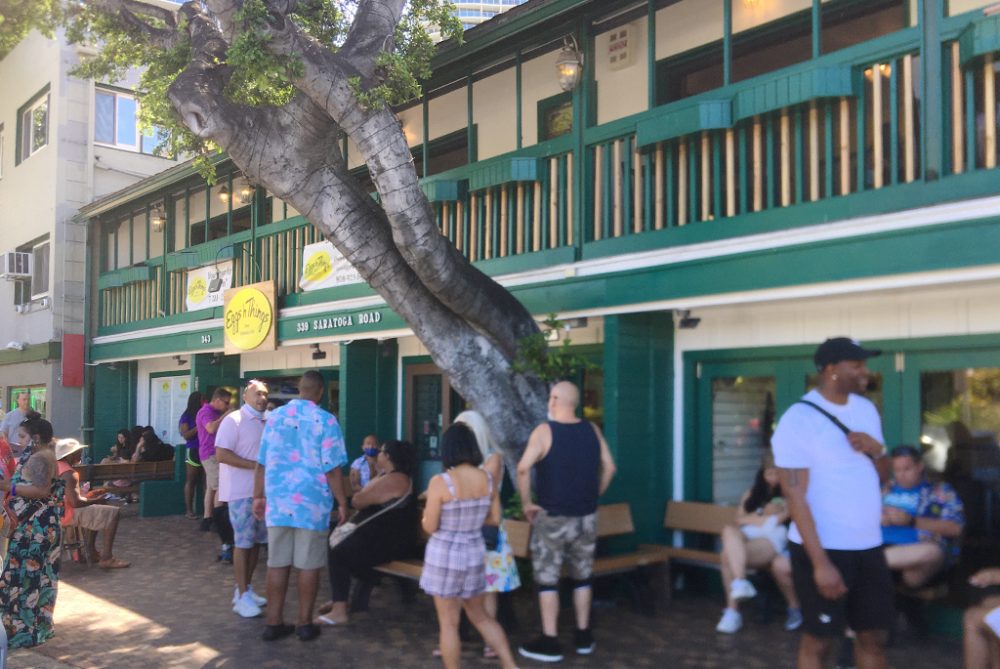 Lenard's Bakery, a long-established malasada (Hawaiian doughnut) store, is more popular than ever seen before.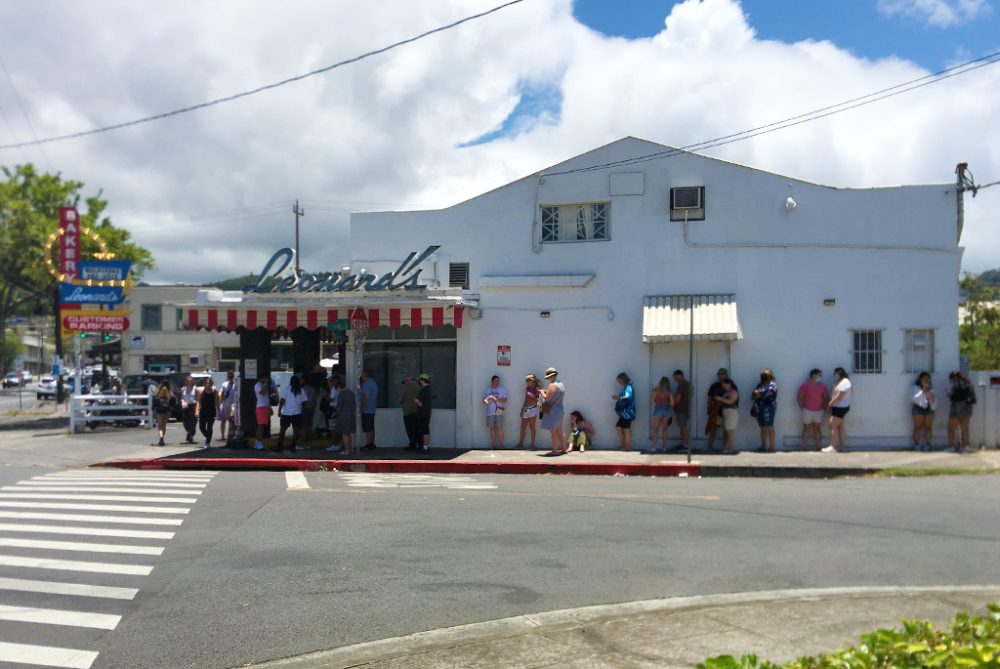 On another day, I was surprised to see a long line of people waiting in line even before 7:00 a.m. in the dim light of day.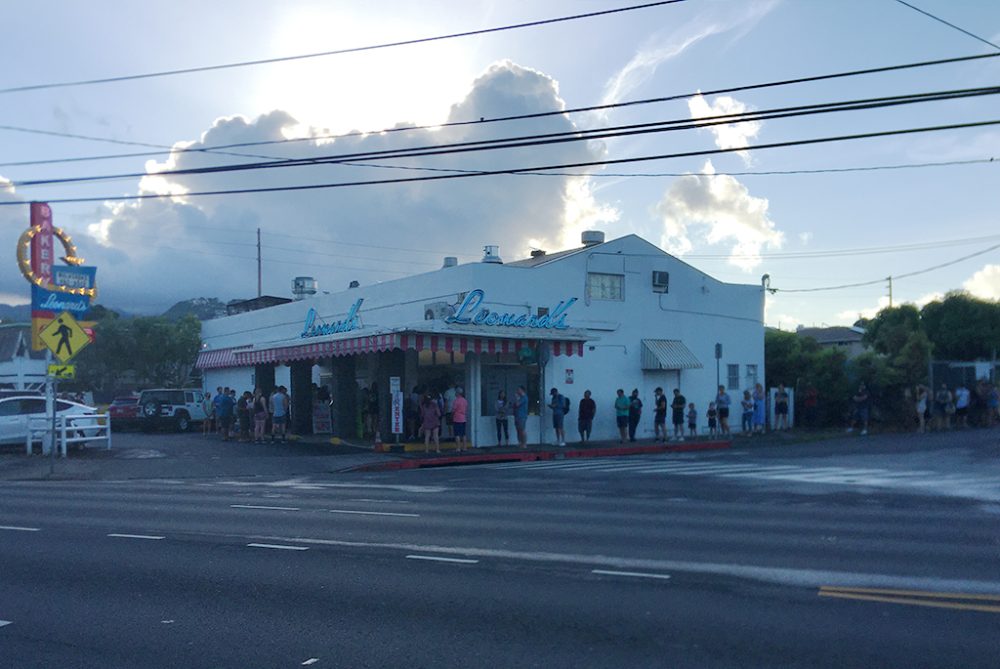 Ramen Yokocho on the B1F of the Waikiki Shopping Plaza has regrettably closed, and there are vacant tenants in the Corona Disaster that have closed and have not been replaced by new stores, but popular stores such as Ramen Nakamura and Marugame Seimen remain unabated.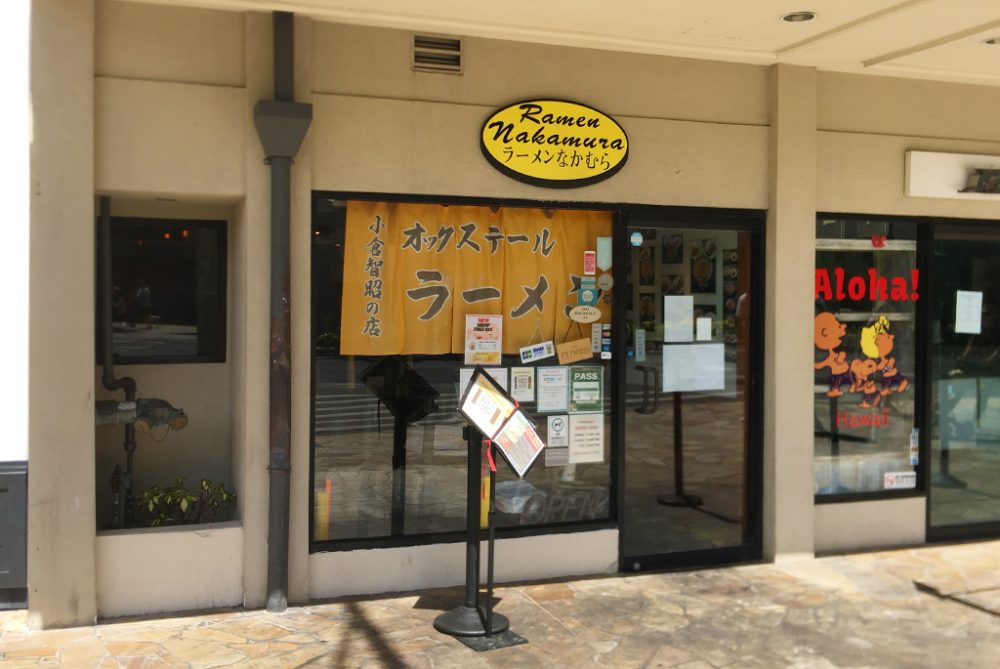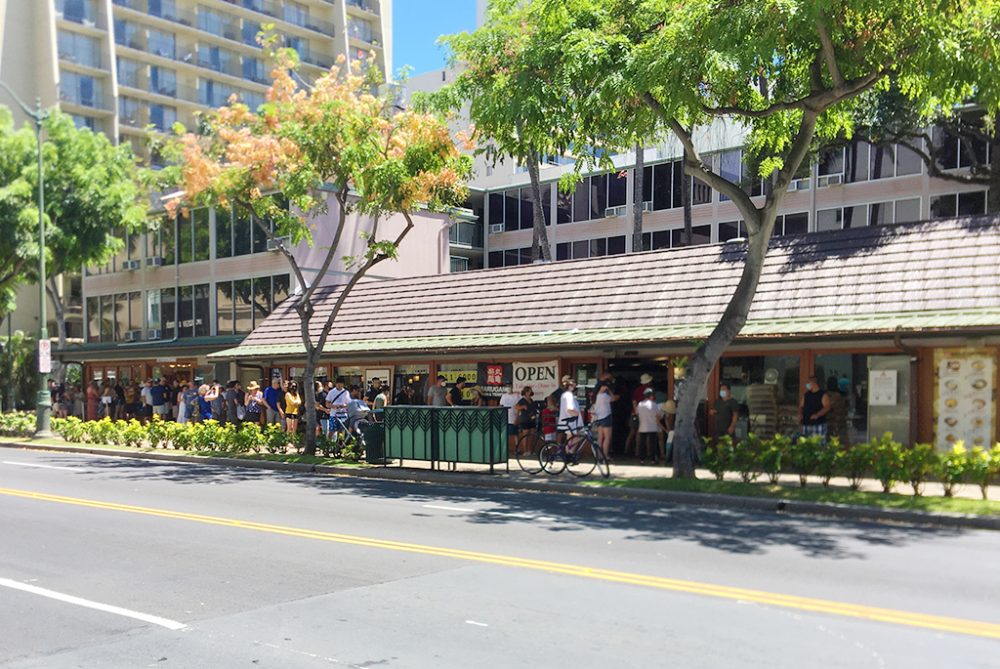 Tourist traffic is changing.
The transportation network is still in transition. During the lockdown, the car rental business for tourists has been quiet, and there is currently a shortage of rental cars as tourists return to Hawaii, leaving behind a surplus of vehicles that have been sent back to the U.S. from Hawaii. (The generous unemployment insurance in the U.S. also seems to be a factor in the slow return of tourism workers.)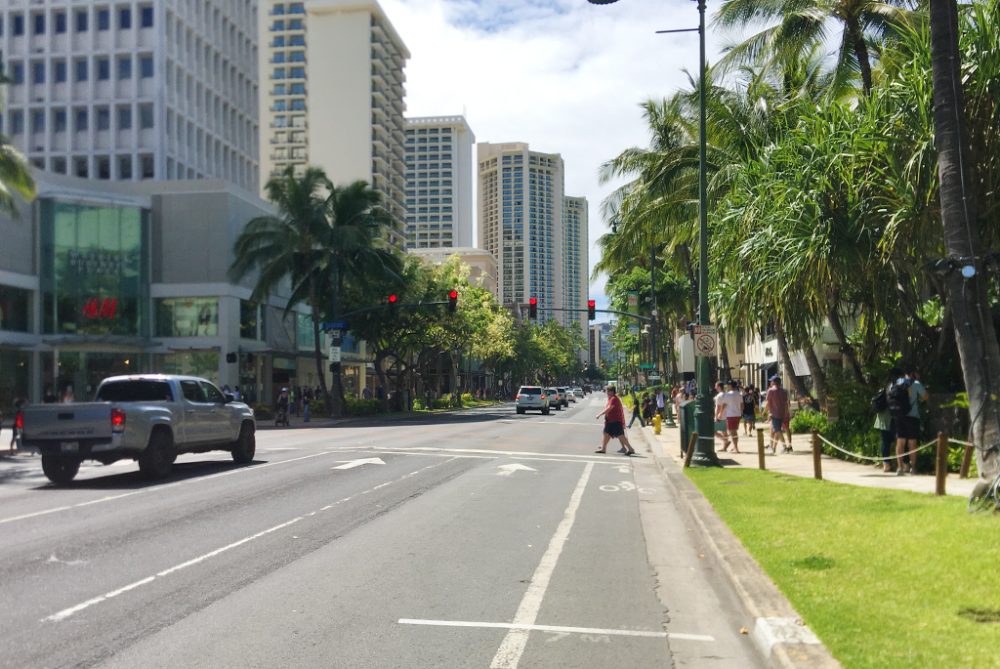 The large buses that pick up and drop off the many tourists are not very common. The trolley buses that used to run leisurely through the city were seen only once during the ride. The bus terminal at the Sheraton Waikiki Hotel, which used to be crammed with shuttle buses, is now deserted, as you can see.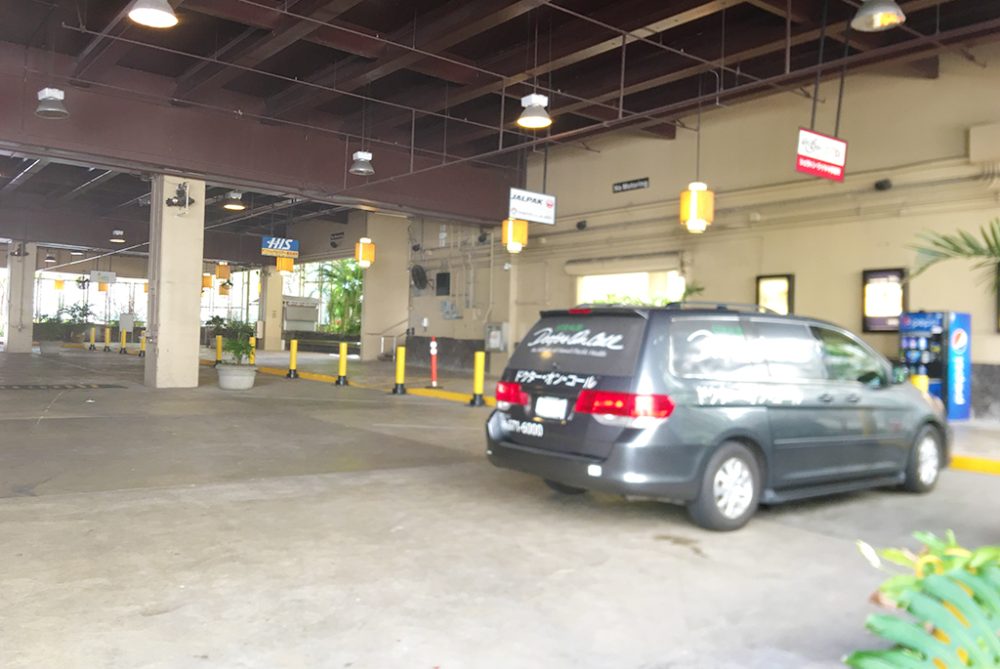 The only striking feature is the doctor-on-call (a medical service available to tourists) vehicle parked in the area.
In addition to Uber, cabs, and the Bus (public buses), which have been used for tourist transportation in the past, bicycle rentals have become especially popular.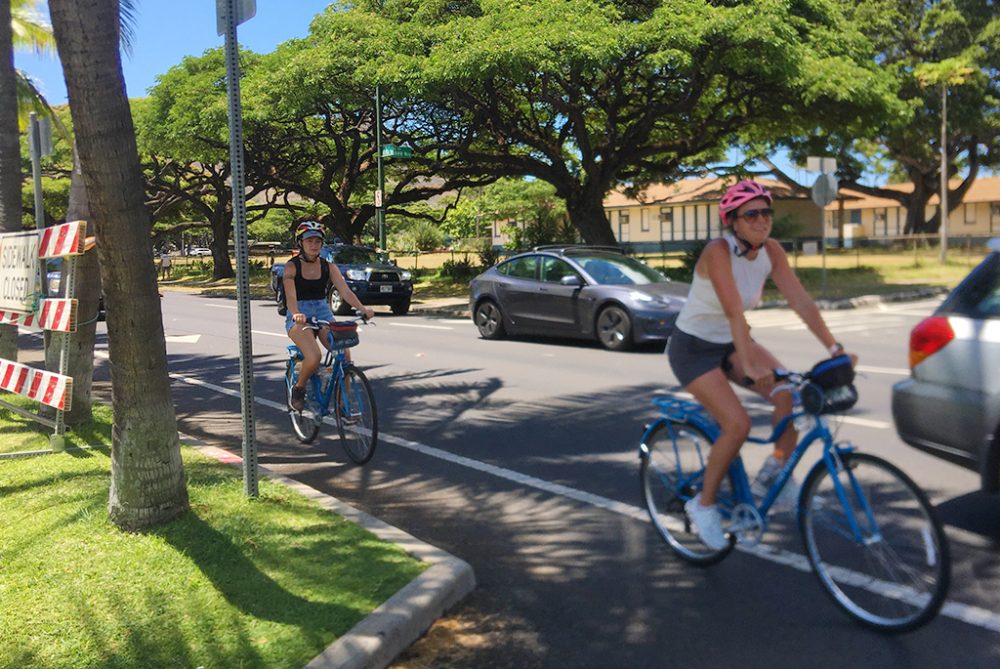 Particularly popular is the "biki" public bicycle rental service. The key point is that there are stations (dedicated bicycle parking areas) everywhere.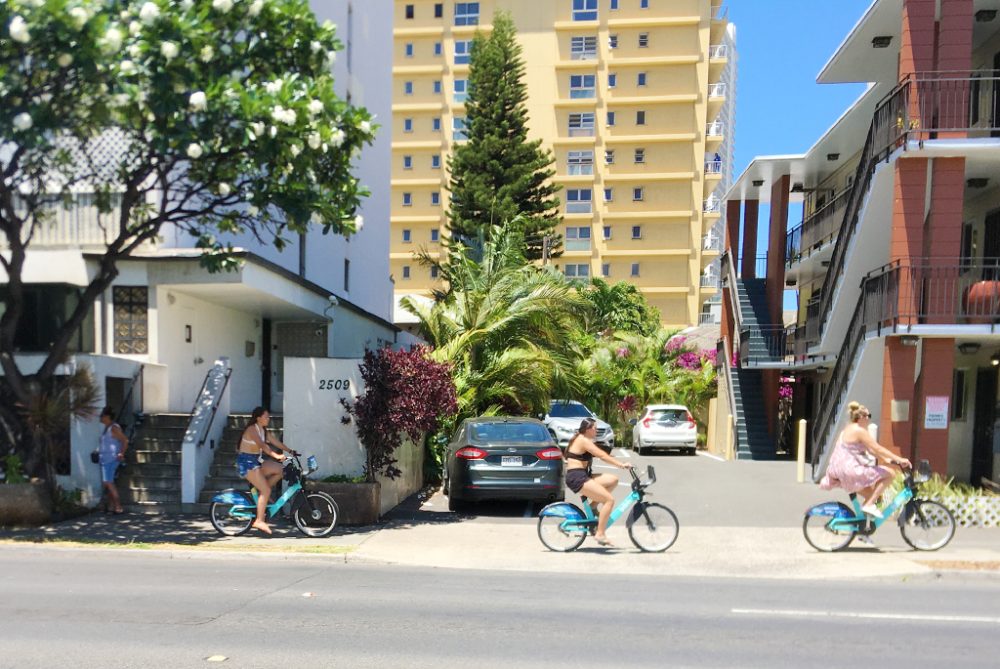 You can rent a biki at one station and return it to another station, but compared to the past, many stations are almost completely out of bikes, and supply does not seem to be keeping up with demand.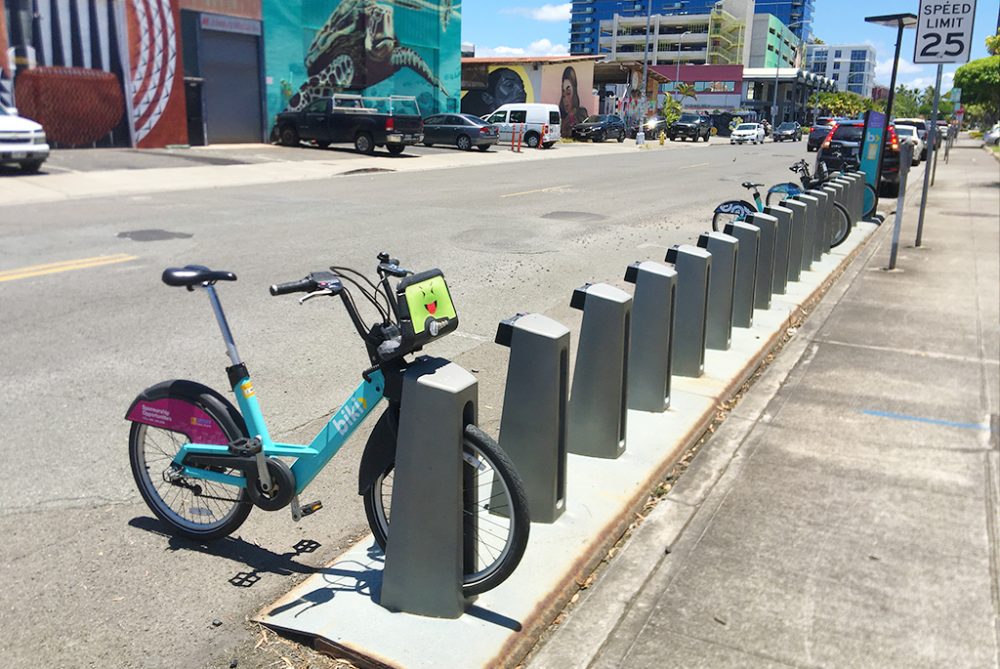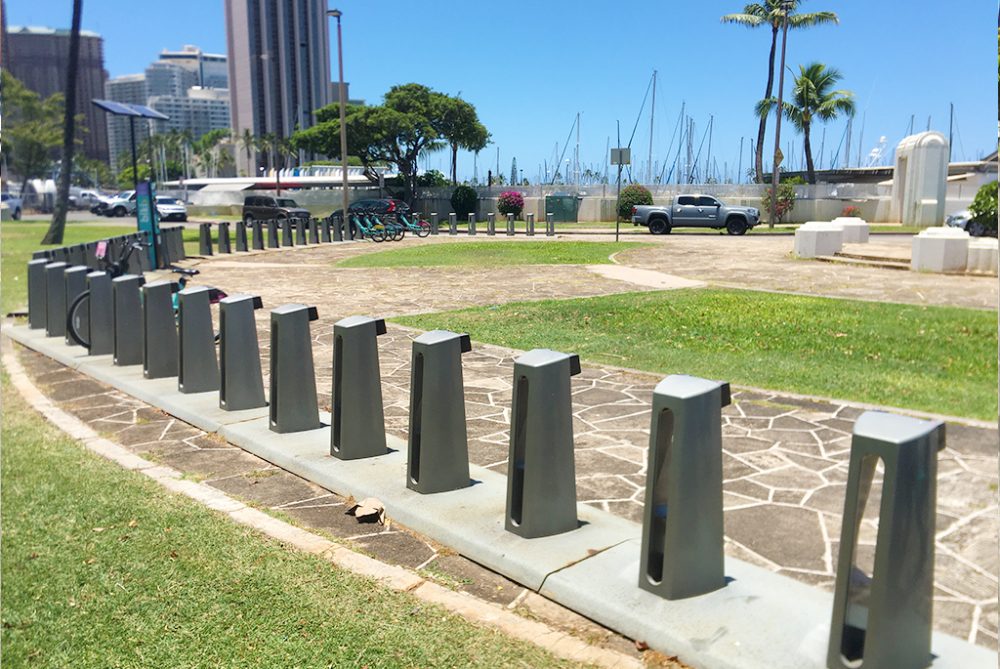 Arrive at a beautiful beach.
I rode my bicycle and finally came to the beach.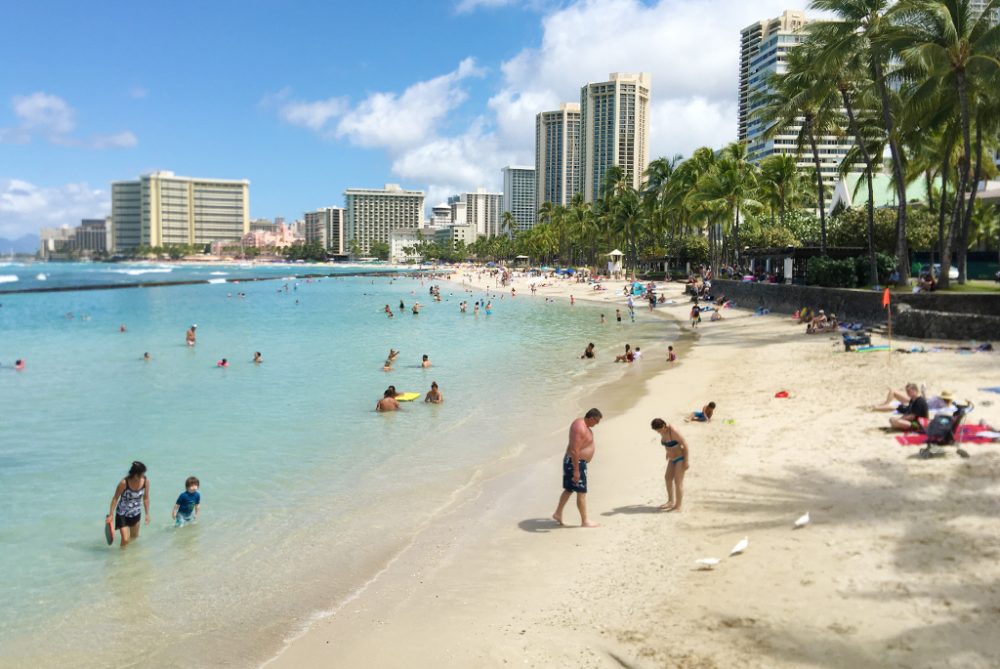 Because of the pandemic, the number of users has decreased for a while, and the water is so clean that even I, who am used to seeing the ocean on a regular basis, can feel that it has become cleaner.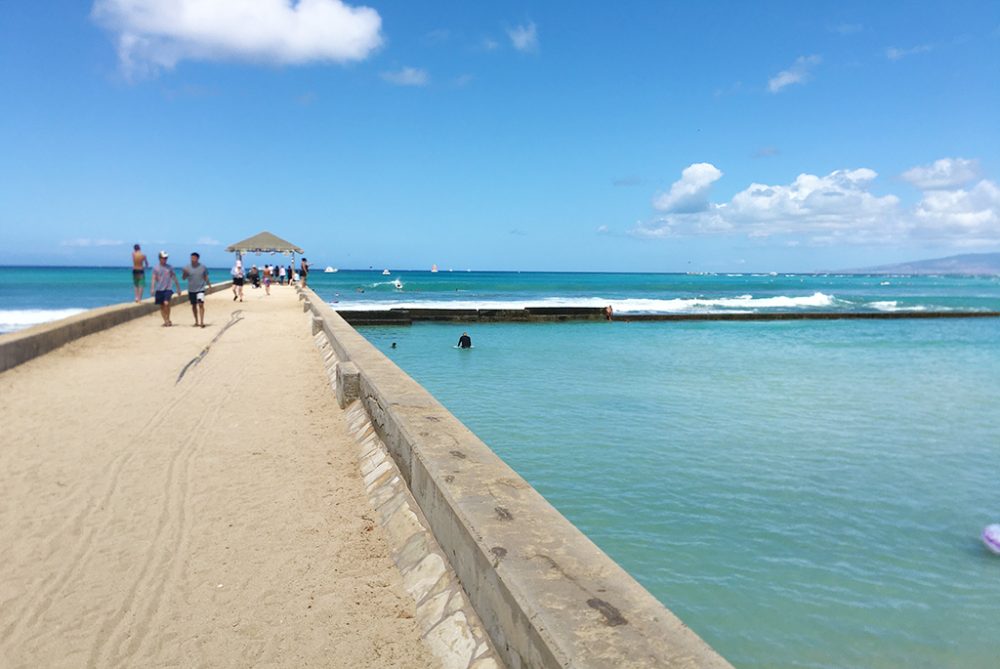 In the same way, sand that had been washed away to shallow waters over the past year has been returned to the beach, and the beach has been cleaned and maintained.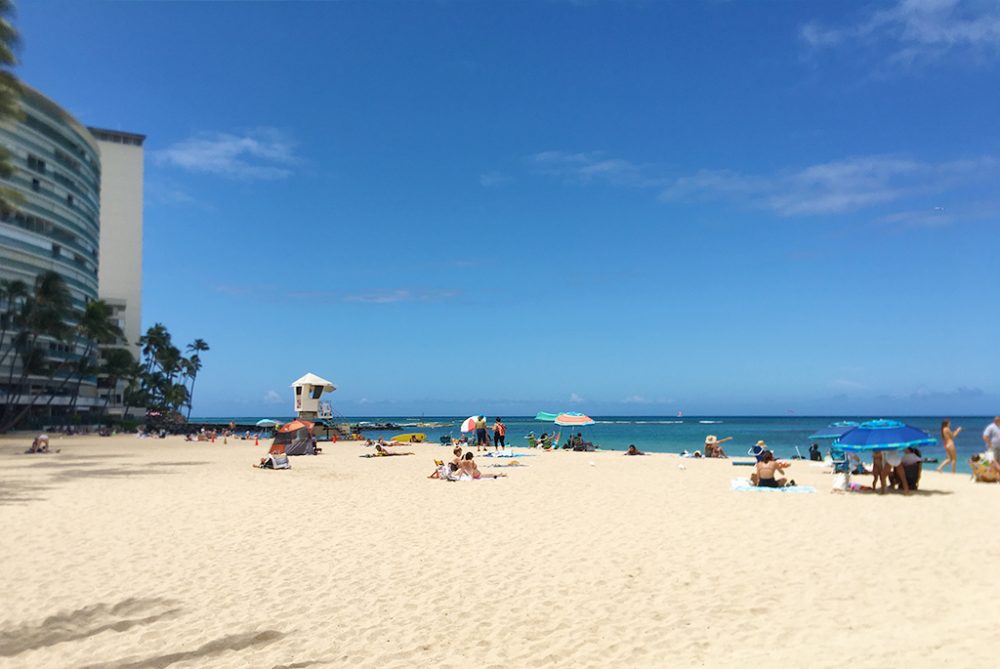 The zoo and park are both open, but…
"Kapiolani Park" overlooked by Diamond Head. "The Honolulu Zoo" next to it are both available.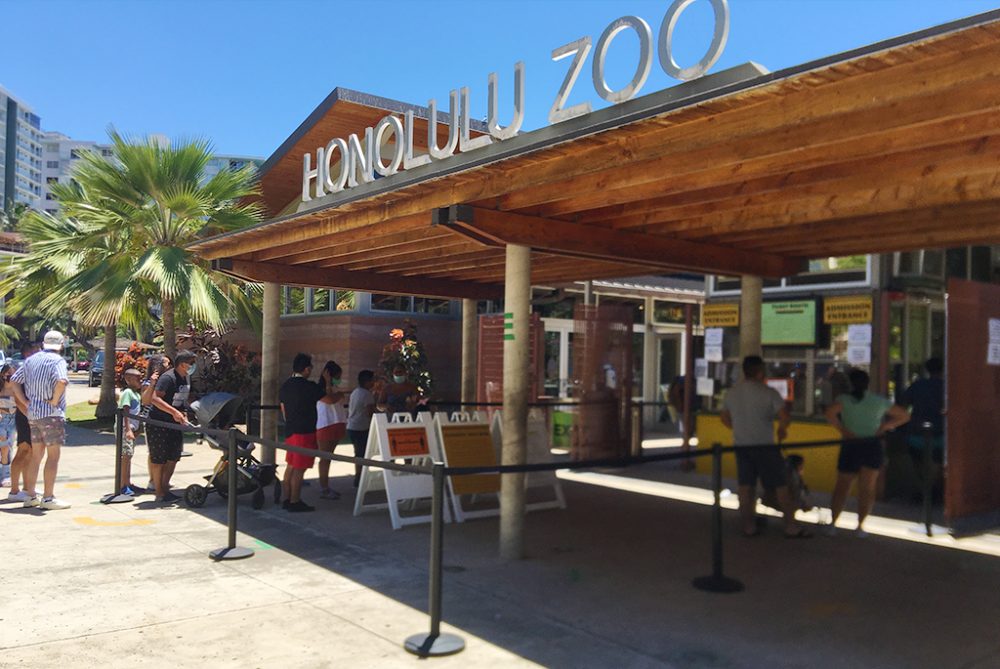 The zoo seems popular, but the park is deserted.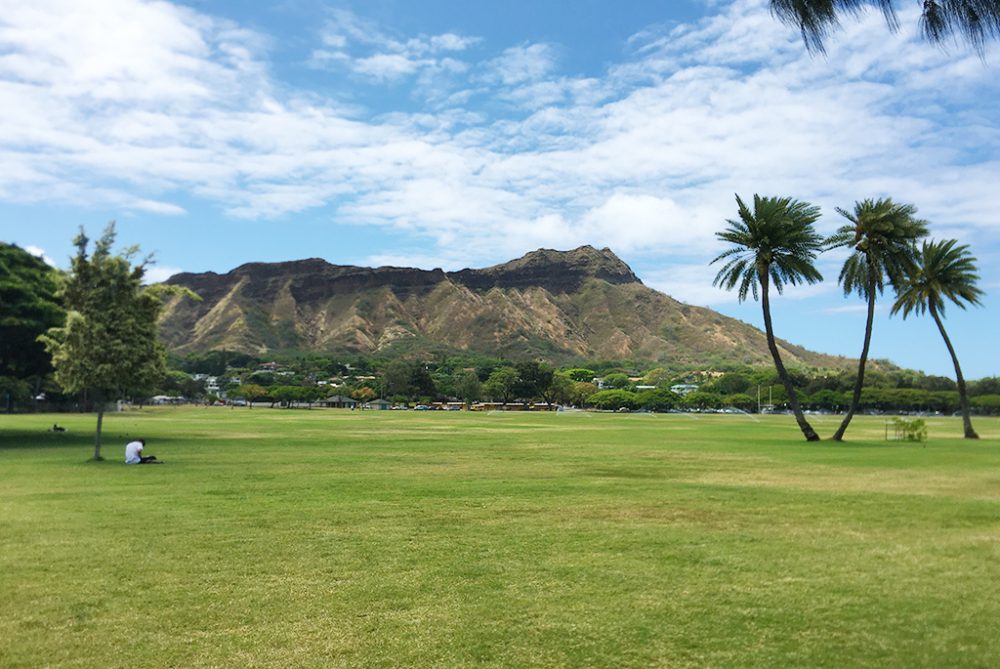 There used to be yoga classes and activities held daily, but no groups use the park as a venue because it is still prohibited for large groups to gather and hold events. The grass in the park is in very good condition now that not many people have stepped on it.
Diamond Head's classic scenic spot is also a bit lonely.
Leaving Kapiolani Park, continue east on Diamond Head Road. The ocean-side (south) viewing spot (called "Amelia Earhart's Marker" by Loco) can be reached by bicycle and is a very pleasant place to visit.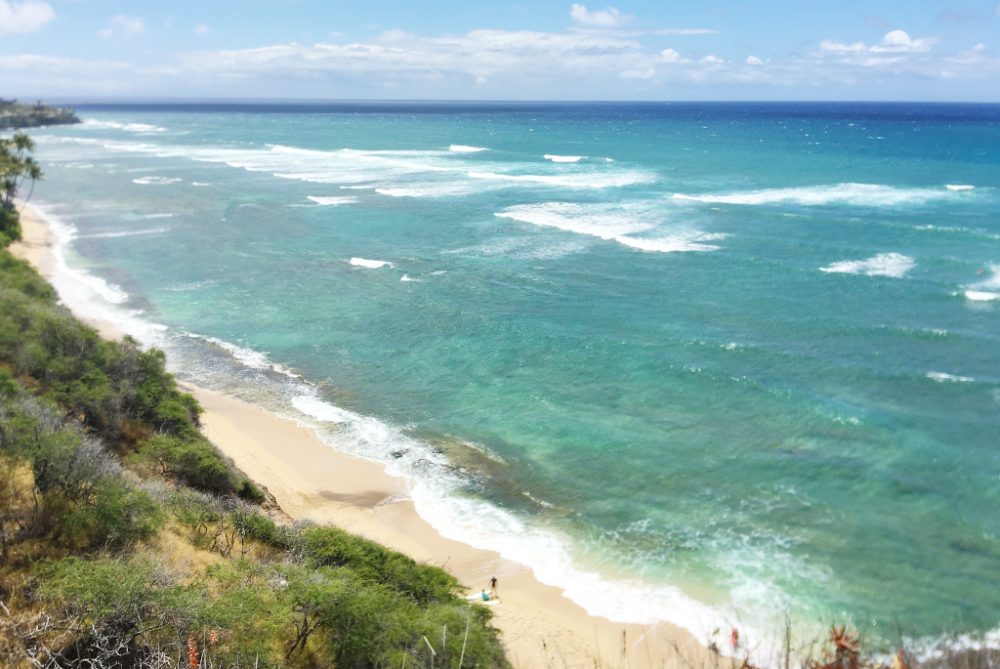 This is a popular point usually visited by many tourists by bus, but it is still deserted. This may be due to the low bus frequency and the limited number of ways to get here.
Take a side trip and stop by a recommended cycling route.
Heading north at the east end of Diamond Head, you will find the entrance to an inconspicuous pathway next to the motorway.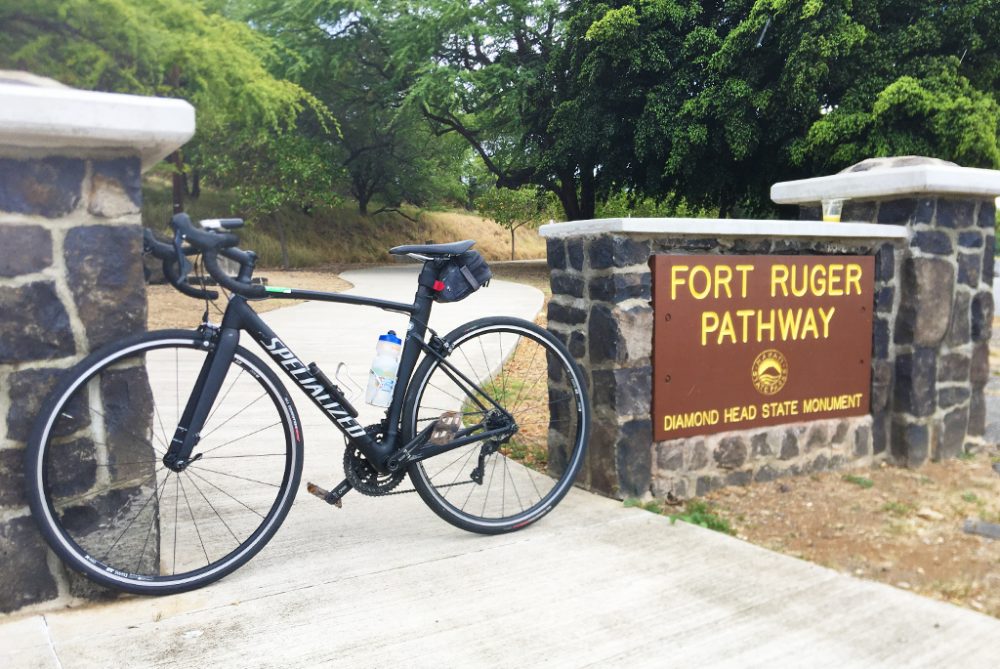 This is actually the Fort Ruger Pathway, a recommended bike path.
It is car-free and has machines for runners and walkers to train along the way.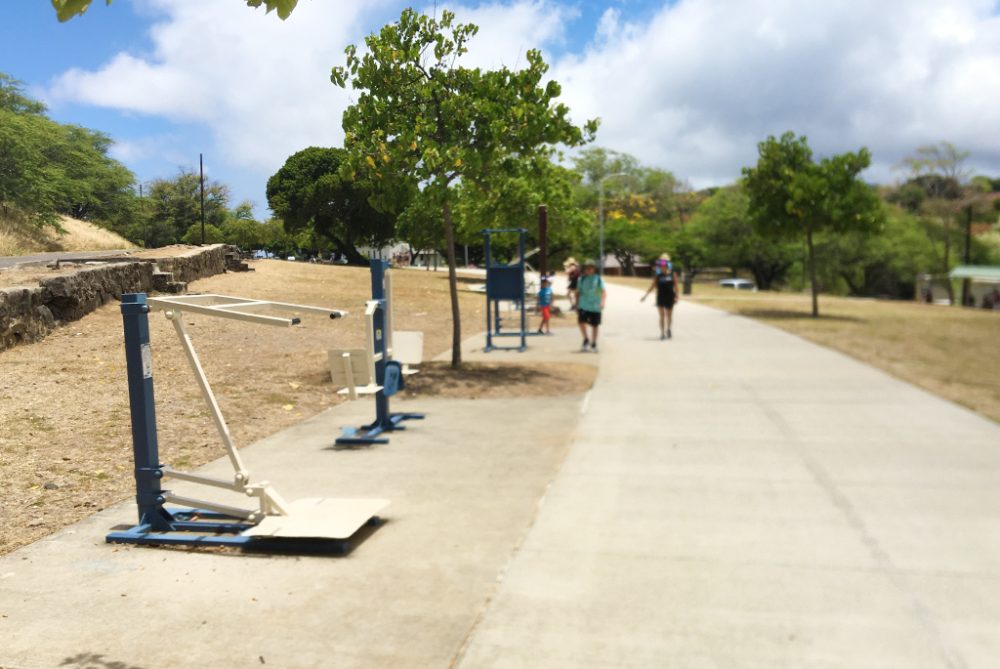 There is also running water so you can ride your bicycle comfortably.
What it felt like to run in Waikiki
Cycling in Hawaii with its high temperatures and refreshing breezes is one of the joys of riding in Hawaii. It is also a great way to get to know the city better.
As I pedaled, I could see how many things have been affected by Korona over the past year, and I could see the new changes in Waikiki as it moves toward a fresh start.
While we are happy to see more tourists, it is sad to see that there are no Japanese tourists who used to be seen in large numbers. I hope that the people of Japan will soon come to Hawaii to enjoy the beautiful ocean and sky!
Riders:Rod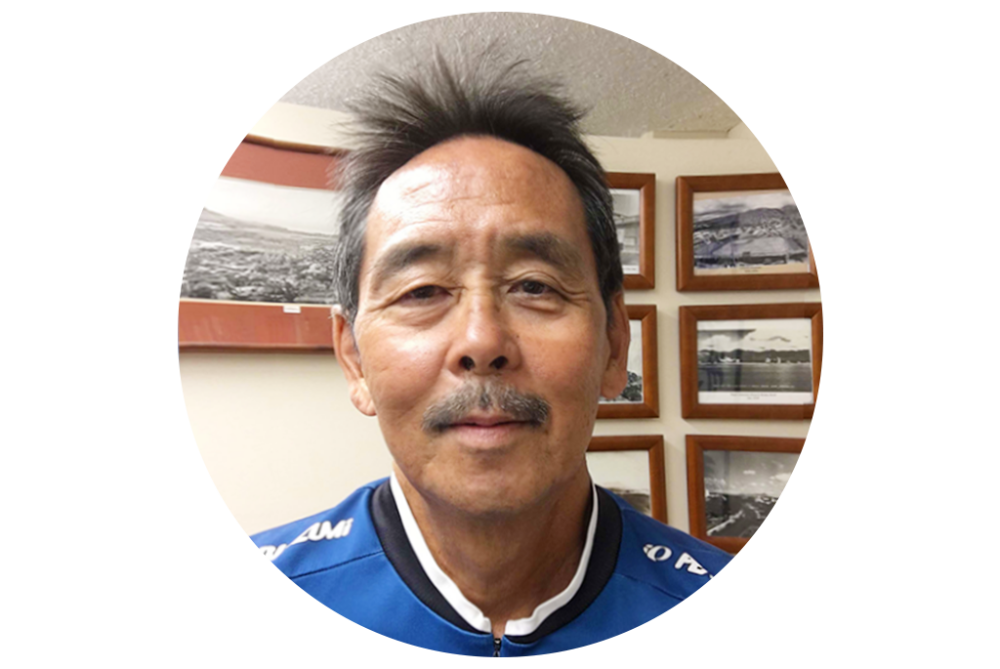 Born and raised in Hawaii.
Fifteen years ago, he became involved in the Honolulu Century Ride, Hawaii's largest long ride event, and was hooked on the allure of road biking. Today, he enjoys cycling every weekend in his hometown with three friends as the "Makule (Hawaiian for "old man") Rider's. His favorite drink is Miller draft beer.
Post Date:2021.06.30